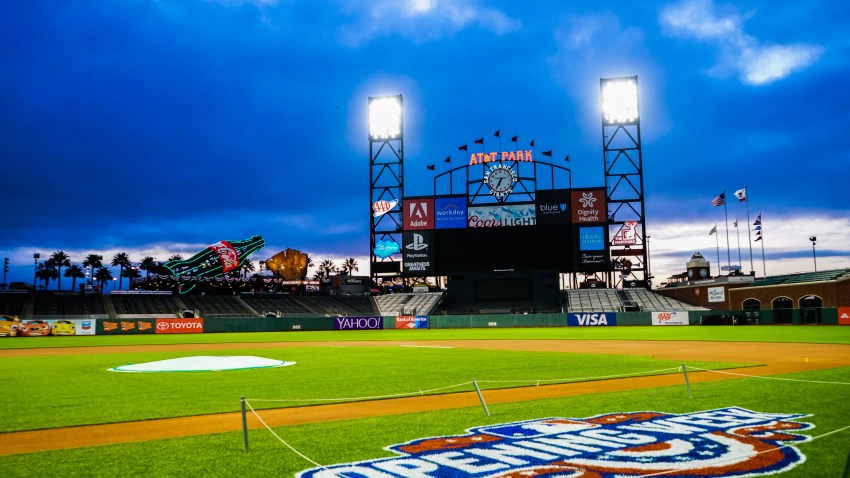 Baseball is back in the city by the bay. The San Francisco Giants on Monday are slated to hit the diamond for their first regular season action at AT&T Park.
Before the competitive action, the athletes, the organization and folks behind the scene were busy putting the finishing touches on the park as anxious fans counted down the minutes until the first pitch.
Larry Baer Talks Expectations Ahead of Giants' Home Opener
The president and CEO of the San Francisco Giants is back for another season, and he's dedicated to bringing another World Series championship back to San Francisco.
Excitement Builds as Giants Fans Gear Up for Home Opener
Fans of the "Orange and Black" are expected to once again pack the house at AT&T Park for the Giants' first regular season home game. The energy outside the stadium before the first pitch was palpable.
Months of Preparation Pay Off for Giants' Home Opener
Before the first pitch, the folks behind the scenes are tasked with a number of responsibilities to make sure the San Francisco Giants' home opener goes off without a hitch.
Free Giveaways for San Francisco Giants Home Games
Some lucky fans headed to AT&T Park this season will be treated to special promotions, such as bobblehead handouts and gear giveaways.
Tasty Treats Unveiled at AT&T Park
A day at the yard isn't complete without visiting one of AT&T Park's many food vendors. A new addition to the food roster this season is CREAM, a desert company made famous for its ice cream sandwiches.
Can Tech Sounds Help the Giants' Bat?
San Francisco is just miles from Silicon Valley so it only makes sense that the San Francisco Giants are tapping into the latest technology to help their athletes succeed on the field and at the plate.
What's New at AT&T Park Ahead of Home Opener?
AT&T Park has played home to the San Francisco Giants since 2000, but that doesn't mean it isn't keeping up with the times. The Giants have added a few new features to the park to enhance the fan experience.
Kari's Gameday Forecast: Cool and Clear
AT&T Park is known for its cool temperatures and smothering fog, but fans will be treated to a day of mostly sun and comfortable temperatures for the San Francisco Giants' home opener.
AT&T Park and All of Its Beauty
The home of the San Francisco Giants is arguably one of the best venues in the game. As ballplayers duke it out on the diamond, fans can take a gander at the San Francisco Bay and East Bay hills. Kayakers left without a ticket can also enjoy a day on the water in nearby McCovey Cove.
Play Ball! San Francisco Giants Due Up for Home Opener