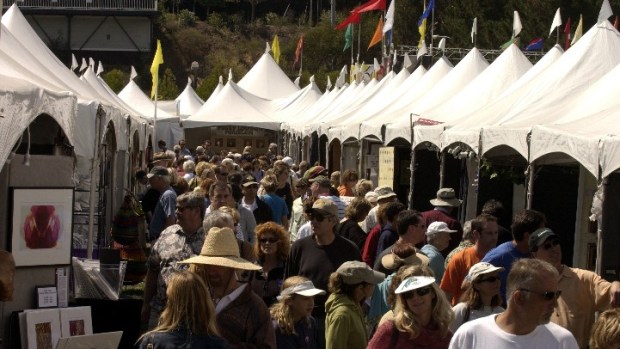 Top Productions
The Sausalito Art Festival is on from Saturday, Sept. 3 through Monday, Sept. 5.
PRETTY CUTE: Any major festival worth its booths has a long -- make that looong, rather -- list of can'ts. Don't wear a three-piece suit. Don't show with your parakeet (parrots are a-ok). Only eat while standing up. And so forth. But we'll give to the Sausalito Art Festival, which is our kind of festival. Why do we say that? Well, it ends it lists of not-alloweds with "Fun is Allowed." Bravo that. And bravo to the fact that it has been around for an impressive 59 years. Let's call it six decades-ish and be done with it. It is, in fact, billed as the "West Coast's Crown Jewel of Labor Day Weekend Events..." which is pretty wow. Also wow? That nearly 300 artists and about 34,000 art fans will show.
THE NITTY-GRITTY: The dates are Saturday, Sept. 3 through Monday, Sept. 5. Bands will play. Food will be made. And people will wander about and enjoy a long-weekend must from 10 a.m. to 6 p.m. the first two days, and 10 a.m. to 5 p.m. on the final day. General admission is $25, or you can pick up a three-dayer for $40. There'll be a whole lot of art to admire. We're just saying is all.