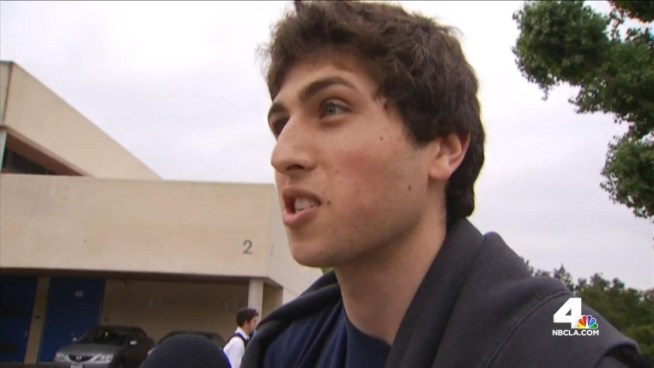 Reggie Kumar, Scott Spiro, Azucena Varela
Family and friends of a UC Santa Barbara student from Westlake Village mourned her loss after she was gunned down during a shooting rampage in Isla Vista Friday night. Reggie Kumar reports from Westlake Village for the NBC4 News at 11 on Saturday, March 24, 2014.
Family and friends said a Westlake High School graduate was among the seven people killed during a shooting rampage in Isla Vista Friday night.
Veronika Weiss, 19, was in her first year at the University of California Santa Barbara. She was a member of the Westlake girls water polo team while in high school.
"The first time I met her she seemed super nice, really lovely girl. Really smart, too," said Cole Cassidy, who knew Weiss.
People were taking to social media to express their grief.
"My heart goes out to the family of Veronika Weiss. Veronika was a Westlake graduate killed in yesterday's UCSB shooting. Rest in peace," wrote Chad Scott on Twitter.
The gunfire erupted just before 9:30 p.m. in the town known for rowdy parties and a raucous weekend scene. The gunman shot victims while he was inside his car, a black BMW 3 series coupe, according to witness and sheriff's department accounts.
Nine crime scene locations were confirmed across Isla Vista, but no shots were fired on the university's campus, Santa Barbara County Sheriff Bill Brown. At one point, the black BMW stopped outside a popular deli before rapid gunfire sprayed into the crowd.
The gunman -- identified by an attorney for his father as Elliot Rodger -- was later involved in at least one shootout with sheriff's deputies and died of a gunshot wound to the head, Santa Barbara County Sheriff Bill Brown said at a Saturday morning news conference. He could not confirm whether the gunshot was self-inflicted and the department had not released the identity of the gunman by Saturday afternoon.
NBC4's Reggie Kumar contributed to this report