PG&E Self-Reports Areas of Concern
The company is promoting its new safety-is-everything corporate culture.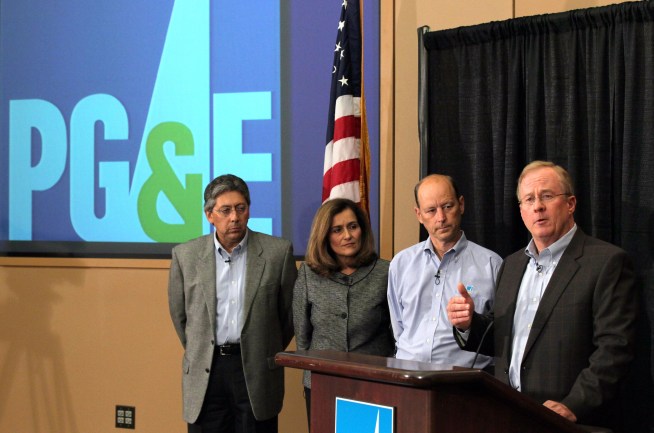 File photo / Getty Images
Pacific Gas & Electric senior vice president of engineering and operations Ed Salas, PG&E senior vice president of energy delivery Geisha Williams, PG&E president Chris Johns and PG&E CEO Peter Darbee speak during a news conference at the company's headquarters on Sept. 20, 2010, in San Francisco. PG&E announced that they will be releasing a list of the top 100 most vulnerable gas transmission lines in Central and Northern California following the deadly gas pipeline blast that killed four people in San Bruno on September 9.
PG&E has sent a letter to state legislators, pointing out locations showing corrosion within its pipeline system -- but none of those locations, according to the company, are compromising the system.
The findings from self reports such as this are shared with "customers, the public and the California Public Utilities Commission," according to a release from the company.
[Click here to read the full report.]
PG&E references its new "safety-is-everything" cultural approach -- one that encourages employees to bring concerns to light.
The report points out a specific electrical technology used to control underground pipeline corrosion. It's a type of early-warning system that alerts the company if something needs further human inspection.
The stricter self-reporting and analysis the company has stated its undertaken is a direct resulf of the San Bruno gas explosion disaster in September 2010.