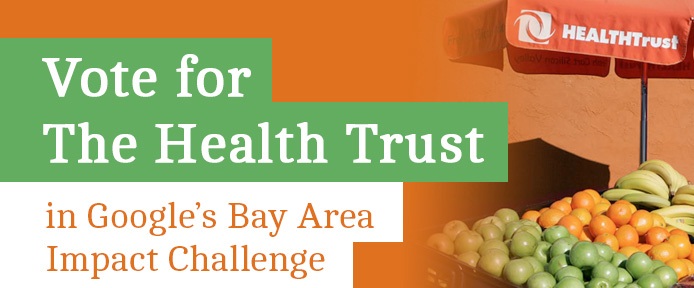 Voting for Google's Bay Area Impact Challenge is running now until June 2nd. The aim of the challenge is to search for the most innovative ideas for making the Bay Area communities an event better place to live. One of the top ten non-profit finalists is The Health Trust. The Health Trust has been chosen as a finalist for their innovative approaches to make affordable quality, nutritious food accessible in low-income neighborhoods.
Their proposal will create new distribution channels for affordable produce in Santa Clara County. Their mobile vendor program will offer fresh fruits and vegetables to public residential areas and provide entrepreneurial opportunities to local residence that can operate their own cart. They will contribute to small markets and convenience stores with fresh produce and other healthy items by providing them with the equipment and technical assistance. The Health Trust will also expand the availability of farmer's markets by establishing small, certified markets on private property through training and technical assistance to community organizations.
A six-member panel—which included Honorable Aida Alvarez, Jacquelline Fuller, Director, Google.org, Secretary Norman Mineta, Major League Baseball Player Barry Zito, Reverend Cecil Williams, Chief Teresa Deloach Reed — reviewed all the submissions and identified 10 finalists. As a finalist, The Health Trust will receive $250,000 from Google to make their fresh food access project a reality. If voted through by the public as one of the top four finalists they will have their fund increased to $500,000.
To cast your vote, click here.