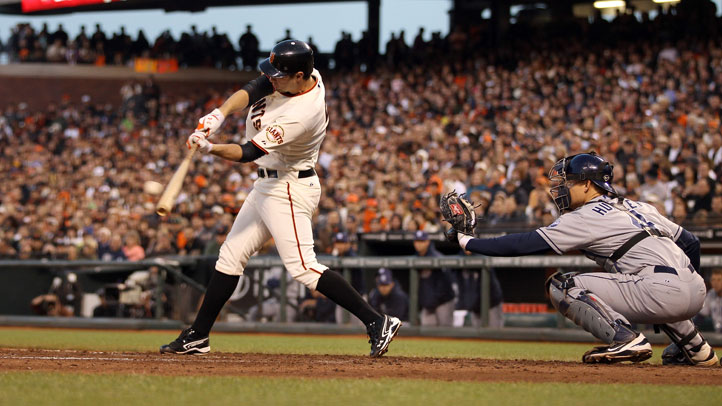 Brandon Belt might very well be the bane of Brian Sabean's existence. Not because Belt doesn't have the potential to become a viable major-league starter. He does.
But Sabean is tortured by Belt in the sense that there are social-media movements dedicated to his playing time, and Belt's status as an everyday first baseman is the constant concern of most fans, bloggers and general commenters when it comes to the Giants.
This would explain the nature of Sabean's answer to Scott Ostler of the San Francisco Chronicle recently, when asked about Belt being free.
"He's free! He's playing!" Sabean told Ostler Wednesday. "What the hell are we talking about? Stop! Stop!"
That is precisely why Sabean's better off not ever getting on Twitter. But Sabean had a serious answer too (I think he was joking about the previous one anyway) when discussing Belt's future, pointing out that the first baseman is locked-in at the major-league level.
"He's going nowhere," Sabean said, meaning Belt will stay with the Giants. "The kid's earned his way onto the team ... and we all want him to take over as the first baseman, and help this lineup, and I think it'll turn out that way.
"But you still have to earn your right to stay in the lineup."
It's easy to rip Sabes for his handling of Belt and that last sentence does point to the fact that he'd be willing to move Belt out of the lineup if the Baby Giraffe struggles. But it also points to something else Sabean said: when Aubrey Huff returns, "he will probably be more in the outfield."
In other words, Sabean's preparing for the departure of Huff, and he understands that Belt's going to be the first baseman of the future, so there's not much point in messing around by sticking him elsewhere in the infield.
Or, say, somewhere like Fresno.