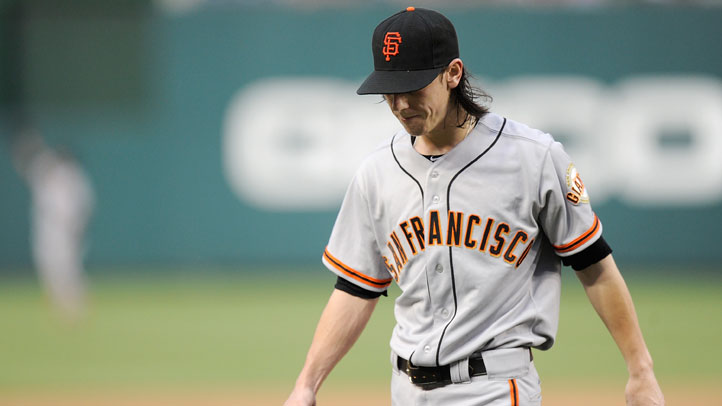 Over the weekend, Bruce Bochy told reporters that he planned on having Tim Lincecum pitch second for the Giants coming out of the All-Star Break. This was a clear bit of good faith in his struggling ace.
Then Sunday happened -- Lincecum was shellacked by the Pirates to the tune of 3.1 innings pitched, six earned runs and an eventual 13-2 loss.
Despite that, Bruce Bochy is sticking with Lincecum and the current plan for the rotation and said there's "no chance" they skip the Freak.
"No," Bochy said. "No chance. We'll throw him back out there."
Bochy's doing the same thing the Giants have done all year: get Lincecum's back even when he's struggling.
That's great, but you hear what Lincecum is saying and you have to be concerned; as CSNBayArea.com's Andrew Baggarly reported, Lincecum called himself the "weak link" on the Giants and then basically said he'd hit "rock bottom."
"I think the only way I can look at is ... you never want to say, `Hey, I've hit rock bottom' or anything like that, but things are going as bad as they are right now, and you've got to go out there like you've got nothing left to lose," Lincecum said. "Go out and leave it on the field and whatever happens, happens."
OK, he didn't say "Hey, I've hit rock bottom" -- instead he said that he didn't want to say that. But that's basically like saying it, you know? And Timmy is at rock bottom right now unfortunately.
Getting shelled by the Pirates a day after getting a vote of confidence from your manager for the second half is the definition of rock bottom. Well, it's close to the definition anyway, and if you want more proof how about the fact that Lincecum has the worst ERA of all starters in baseball?
That's literal rock bottom. The only good news is that there's no where to go for Lincecum but up. And the Giants are going to give him every possible chance to get his game right.