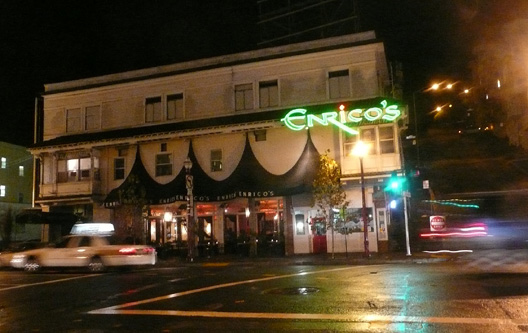 On the historic corner of Broadway and Kearny, North Beach staple Enrico's filed for Chapter 11 bankruptcy late last week.

The move comes as a result of significant financial difficulties (obviously), and according to the public filing, the estimated liabilities fall somewhere in the $100K-$500K range. That said, it's important to note that for the time being, Enrico's is going to forge ahead and stay open.

Given the troubling times, fans of the place might want to rally to support a San Francisco institution, lest it be lost to the tides of time.

In the last few weeks, the restaurant has put a renewed focus on the menu (fewer items, more bistro-centric) and on the live music/entertainment aspects. Meanwhile, next door, Naked Lunch by Ian Begg and Ryan Maxey will continue to do its lunchtime thing.
Copyright EATRS