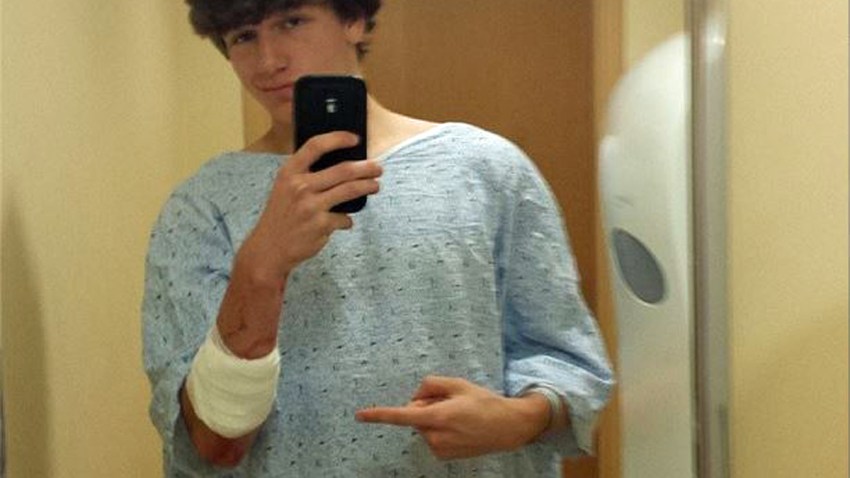 Pennsylvania high school stabbing victim Nate Scimio posted a selfie of himself from the hospital after a stabbing rampage Wednesday to let everyone know he was doing OK.
"Chillin at Children's," was how Scimio labeled the Instagram photo, which shows him in a hosptal gown, his right arm in a bandage.
At least eight people from Franklin Regional High School in Murrysville, Pa., were hospitalized during the mass stabbing, many with deep puncture wounds to the abdomen, police said.
Scimio was being hailed as a hero on Twitter Wednesday for reportedly pulling a fire alarm and alerting students during the incident.
Franklin Regional students Trinity McCool and Lindsay Scala tweeted their thanks to Scimio for saving their lives.
"Without Nate me and Lindsay would've been injured and there's not enough words to describe how much of a hero he is," McCool tweeted.
McCool also tweeted about the stabber who created panic in the halls as he attacked people.
"I just cant get the fear and his look on his face out of my head when he chased us down the hall," she wrote.
The 16-year-old stabbing suspect, identified as Alex Hribal, has been charged with 26 felony counts.
"Can't thank Nate enough for stepping in front of me and Trinity today. He is a hero, and I am so thankful. Praying for everyone today," Scala tweeted.