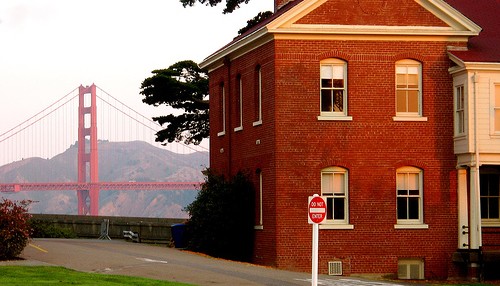 The hotel that was proposed for the Presidio's Main Post — as part of a larger makeover plan that included the now-defunct Don Fisher's art museum — has been downsized and will be presented to the Presidio Trust board this spring.
Maybe this one can be chalked up to the domino effect: with the bold art museum fallen and no big champion for the hotel, it was bound to be taken down a notch by preservationists who wanted to save the park's character, as it were.
The Larkspur-run hotel will be downsized from 95,000-square-feet to 70,000, and the 100 guest rooms will be spread across a number of new buildings that will sit on the footprints of buildings that were torn down long ago, to "reference the land's former use as living space."
Still in opposition to the hotel, the Presidio Historical Association says that "there's got to be a way to resolve this without further public dogfights."
Meanwhile, a new "heritage center" is headed to El Presidio — that the Presidio Historical Association loves, naturally.
Copyright CURBS