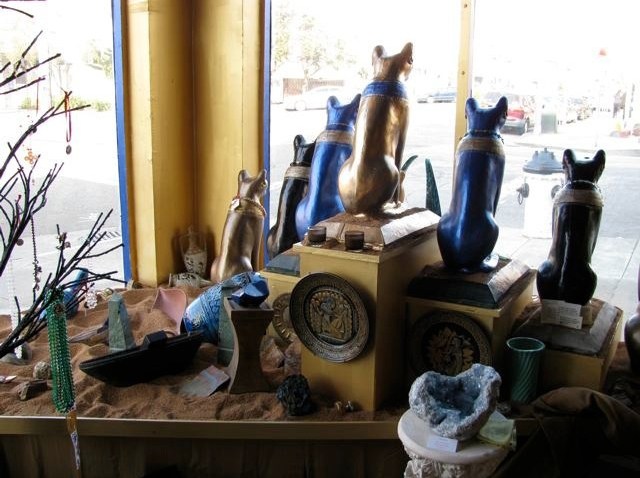 Swing open the front screen door at Bastet's Kindle and you're likely to spot Kim Novak standing at the back of the shop, James Stewart sitting on the settee and Pyewacket perched above the stained glass window.

Yes, the aura of this Inner Sunset neighborhood store is very reminiscent of the charming Manhattan movie set from Bell, Book & Candle. This famous mid-century film is about the special powers of Gillian Holroyd (Kim Novak) and her sleek Siamese side-kick (Pyewacket).

OK, back to San Francisco, 2010.

Bastet's Kindle is a women's collective, truly a collection of collectibles available for purchase. This group of treasure hunters offer an assortment of rare gemstones, unusual tabletop serving pieces, iridescent carnival glass, unique furniture and amongst the new arrivals are fabulous cat Netsukes. There's a twig tree positioned near the sales desk with vintage necklaces dangling right next to a milk glass bowl of crystal bracelets.

Bastet statues, weighing in at 75 lbs. each, are amongst the stars of the inventory mix. Positioned indoors or out, these picturesque sculptures will stand-watch and delight even the leeriest of feline admirers.

Those of us who favor cats are well aware of the on-again, off-again behavior of our beloved four-legged friends. Let's face it, they toy with us whether they're leaping or sleeping. So the added bonus of Bastet's Kindles allure is their dedicated desire to help our treasured creatures from feral to pedigree through donations and fundraising efforts for Give Me Shelter.

Give Me Shelter is an amazing organization and truly worthy of a helping hand from all the cat-lovers of San Francisco.

If you're looking for the purrrfect gift or just want to support their effort, take a Muni metro ride to Bastet's Kindle, 1501 Irving St. in San Francisco, 415-731-2723, www.bastetskindle.com
Lexie Quiring host personal shopping trips through the City. Visit ShopSFwithLexie for more information.