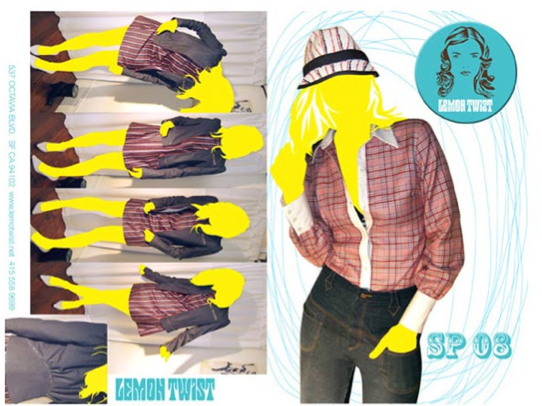 Pucker Up! LEMON TWIST is zesting (no, zesting was not a word until just now) to be the store you can trust for up to the minute styling. It's picked up the chic-bug and all the signs say it's here to stay.
A multitude of factors go into the making of a chic boutique and this Hayes Valley shop has got them all. It's got an understated cool and kicked-back vibe to make even the suavest take pause. Walk in and it's a front room of ready-to-wear that beckons your attention. Even the dressing room has got an easy-breezy swag to it. Just beyond reach are bolts of fabric stacked on a shelf of the back-room cutting table. The message is loud and clear: we design, cut, sew, and swirl it up to the front and its yours. Some of production does travel to other retailers across the land.

In a nut shell, this is first impression dressing at a high point and attitude seeps from the seams of the collections. The tops are flirty and the bottoms are flattering. Dresses curve in at the right places and most skirts are perfect for dancing with just a hint of hemline movement- not an easy feat. Outwear pieces defy the weather with all the right features and details.

Eric and Danette Scheib, the fashion famous couple at the helm of LEMON TWIST have got a rich life in store for them, in more ways than one. They work as a team in their quest for clothing designs that enhance life experiences. Oodles of talent, bundles of love, piles of creativity, wrap it all up and smack it down in the trendy district of Hayes Valley and voila! You've got Lemon Twist, a total dream come true.
Fashion may not speak to us literally, but LEMON TWIST is for sure a bundle of good vibrations.
Price points are friendly and the website is too fabulous for words. www.lemontwist.net
LEMON TWIST - 537 Octavia Blvd. - SF - 415.558.9699


Lexie Quiring leads personal shopping trips at ShopWithLexie.com! Email her at lexie@shopsfwithlexie.com