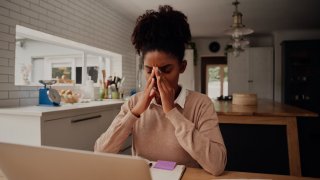 About 52% of Americans still say that they're being financially impacted by the coronavirus pandemic, according to survey data from TransUnion. While some of those affected have been able to find new jobs or rely on unemployment benefits to see them through, 75% are worried about paying their bills.  
That may be especially true with Congress failing to pass any of the proposed additional relief packages over the summer. In the interim, the $600 enhanced weekly unemployment benefits expired and the $300 boost spurred by President Donald Trump's executive order only lasts six weeks. 
Although unemployment benefits have been trimmed, there are other programs still operating that can help Americans stay current on their bills and loans. Below, CNBC Make It rounded up a list of resources and information that may be helpful for those struggling financially right now. 
Housing
A federal eviction moratorium put in place at the beginning of the coronavirus crisis in the U.S. expired at the end of July, but the Centers for Disease Control and Prevention issued an eviction moratorium that runs through the end of the year. It applies to individuals expecting to earn less than $99,000 and couples expecting to earn less than $198,000 in 2020 who can demonstrate they cannot pay rent due to the coronavirus and that they already "used best efforts" to apply for aid. However, many of the details are still being ironed out.
Here are some resources to consider for renters: 
Here are some resources to consider for homeowners: 
Food
About 10% of Americans, 22.3 million, reported they sometimes or often didn't have enough to eat within the past week, according to the Household Pulse Survey for the week ending August 31. The Center on Budget and Policy Priorities estimates that up to 17 million children are living in households where they can't get enough food.
Utilities
If you're worried about paying your utility bills, contact your provider. While some providers' Covid-19 specific programs ended in June, other companies extended their assistance. You may be able to defer utility bills through the assistance programs most companies offer year round, including major providers such as ConEd, Duke Energy, FirstEnergy and PSE&G. 
Credit cards and loans
Major banks, including Capital One, Chase, Citi and Wells Fargo, are encouraging any customers facing economic hardship to enroll in payment assistance programs. These are not automatic, so you will need to enroll each auto loan, personal loan or credit card that you want help with. 
Student loans
The coronavirus relief package passed in March, known as the CARES Act, allowed federal student loan borrowers to temporarily suspend payments and dropped interest rates on federal loans to 0%. These protections were set to expire Sept. 30, but President Trump signed an executive order in August that extends the payment pause through January 2021. The CARES Act only provides payment suspension for federal loans owned by the Education Department. These protections do not apply to private loans. 
Health care
As many as 12 million Americans may have lost health insurance since the start of the coronavirus pandemic, according to a report published in August by the Economic Policy Institute. That's because many Americans get their health insurance through their employer, so high levels of unemployment are affecting access to health insurance. 
If you've lost your job and your health insurance, don't simply sign up for coverage offered under Consolidated Omnibus Budget Reconciliation Act, better known as COBRA, without doing your homework. This can be an expensive option because it keeps you on the same plan you had when you were employed, but instead of your employer covering a portion of the cost, you're on the hook for the entire amount yourself.
Child care
For those facing unemployment, child care may not seem like an essential expense. But it may be difficult to return to work or find a new job without it. Many states and local municipalities offer subsidies and grants that can help families pay for child care. 
Check out: The best credit cards of 2021 could earn you over $1,000 in 5 years
Don't miss: 26% of Americans have taken advantage of some type of payment deferral plan
Copyright CNBC