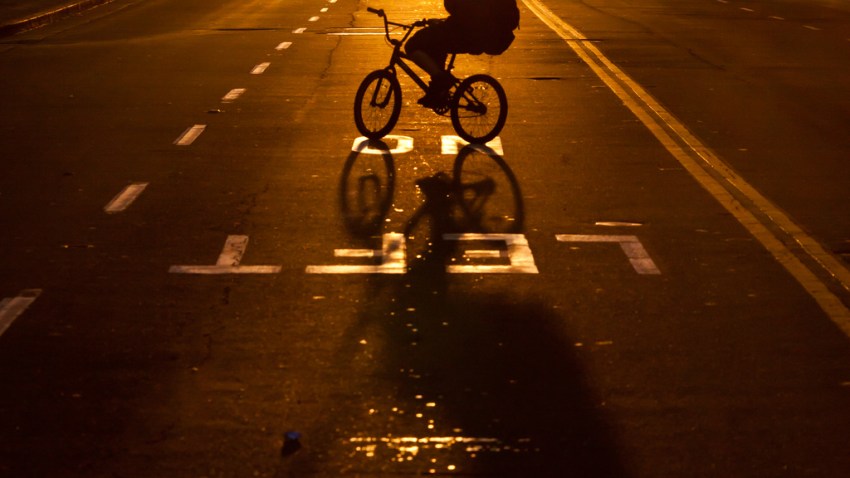 Did you attend this weekend's Hardly Strictly Bluegrass festival in Golden Gate Park? Organizers were ready for you -- unless, of course, you came by bike.

Although the fest had advertised a variety of transportation options -- self-bike-parking, valet bike parking, shuttle buses -- the bike parking apparently broke down fairly quickly. It was repeat of last year's scene, where inadequate parking left bicyclers with no choice but to attach their vehicles to trees. For some crazy reason, the festival wasn't able to meet the Bike Coalition's request for better parking this year, so the city stepped in with more corrals along JFK Drive.

But the festival seems to have thwarted those well-laid plans: they apparently banned bikes from JFK drive, cutting off access to the city's parking.

Photos from the event show disorganized piles of bicycles littering the trees, signs, barricades -- basically anything they could be attached to.

"Perhaps if there was adequate bike parking in Golden Gate Park, even for large events like Hardly Strictly, bike massacres like this wouldn't occur," said the Golden Gate Park Bike Coalition.
Crowd counts vary somewhat: the Chronicle pegs it at 600,000, while the Merc says 800,000. Aside from the bike holocaust, everyone seems to have had a delightful time. Despite the chilly weather, crowds flocked to see Emmylou Harris, Elvis Costello, and Patti Smith. Many of the acts had returned from previous years, such as Doc Watson. Other highlights included dizzying choices between stages, like Randy Newman versus Dave Allen.

Warren Hellman, who foots the bill for the event, promised that he wouldn't change a thing about the festival. But hopefully he can be persuaded on one or two points.
Copyright FREEL - NBC Local Media