A high-flying dare devil stunt in the City by the Bay didn't end well for a team of base jumpers.
Two men, who were caught on surveillance video late Tuesday parachuting off the 46-story Hilton Hotel in downtown San Francisco, were released after being booked on misdemeanor trespassing charges and felony conspiracy charges. A third female base jumper remains at large as of Wednesday evening.
Police on Wednesday identified the two base jumpers as Brendan Weinstein and Joshua Glovac. Both men's Facebook pages are filled with videos of various base jumps and skydives. Weinstein's LinkedIn page indicates that he is also an engineering manager at VSCO, a photography app, while Glovac's says he is a senior repair engineer at United Airlines.
A little after midnight, San Francisco police received a call from security officers at the Hilton at 333 O'Farrell St., who reported that three people had parachuted off the 500-foot hotel tower located in Union Square, one of the city's most popular tourist destinations, police Sgt. Matt Rodgers said.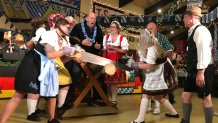 At around the same time, a couple of patrol officers from the Tenderloin police station spotted the two male suspects in their mid-20s near Ellis and Jones streets, Rodgers said.
One of the suspects was already on the ground and the other was coming in to land when police arrived, he said. Both men landed a block from the Tenderloin police station.
"The officers happened to be in the area and as they were landing, they noted to dispatchers that they were observing people who jumped off a building with parachutes, [descended] and landed on the sidewalk," said police spokeswoman Giselle Talkoff.
Weinstein and Glovac were taken into custody and booked. The two were released later Wednesday.
Hotel security told police their surveillance footage had caught at least two men and one woman in the air.
Video footage shows the suspects being taken into the police station in a patrol car along with the parachutes, which were brought in as evidence. Weinstein even blew a kiss at the camera.
According to Rodgers, there is no law preventing people from parachuting, but Weinstein and Glovac were slapped with trespassing charges because they were in a restricted area of the hotel.
"It doesn't appear they had a hotel room or were guests, but somehow they made their way into the hotel," Talkoff said. The "public can enter into the lobby of the hotel and somehow they made their way to the roof."
Hilton employees are reviewing security policies and procedures and police are reviewing surveillance video as part of the investigation. They are also warning the public against any other stunts like this one.
"For one, they did commit a crime — they were trespassing on property that they did not belong at," Talkoff said. "Two, they conspired together to commit this. It is against the law to do that and it is a dangerous thing to do."
Two Arrested After Jumping From 46-Story SF Hilton
Rodgers said he can't remember seeing this kind of an incident taking place in downtown San Francisco during his 18-year career. People have parachuted off the Golden Gate Bridge and the Bay Bridge though, he said.
The Hilton tower on O'Farrell used to be a favorite with the Northern California base-jumping community until the hotel added security measures, according to people familiar with the base-jumping community.
It doesn't get jumped by locals anymore since hotel management boarded up exit points and installed alarms on the roof, they said.
NBC Bay Area's Kim Yonenaka and Rhea Mahbubani contributed to this report.