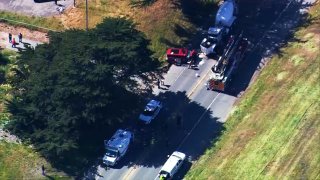 Three people were transported to the hospital Monday after a cement truck and car collided in El Granada, police said.
Highway 1 was closed in both directions from Capistrano Road to Coronado Street but has since reopened.
The driver of the cement truck suffered unknown injuries, the California Highway Patrol said. The driver of the car also suffered unknown injuries. A juvenile passenger suffered major injuries.
This is a developing story. Details may change as more information becomes available. Stay tuned for updates.