Lake Anza in Berkeley is closed for swimming due to a bloom of toxic blue-green algae, the East Bay Regional Park District announced Thursday. The lake is the fifth such swimming hole in the park district to be deemed off-limits to people and dogs.
Lake Anza, situated in Tilden Regional Park in the hills east of Berkeley, will remained closed pending further water-quality tests. The blooms can prove fatal to dogs, and cause skin irritations and gastro-intenstinal problems in humans.
Lake Anza joins three other lakes and one pond in the region that have all been afflicted with toxic algae.
In July, park officials put a stop to swimming in Lake Temescal in Oakland due to an algae bloom. Quarry Lakes in Fremont was closed about two months before that for the same reason. Shinn Pond along the Alameda Creek Regional Trail was also closed.
Lake Anza in #Berkeley closed to swimmers after water tests positive for #bluegreenalgae, can be deadly for dogs. pic.twitter.com/PgxqH7ay9E

— Stephanie Chuang (@StephChuang) September 18, 2015
Though swimming is not allowed in Lake Chabot in Castro Valley, officials have warned of toxic algae there as well. Three dogs died in January and February at Lake Chabot after ingesting the water.
Lake Temescal in Oakland Closed Because of Toxic Algae Bloom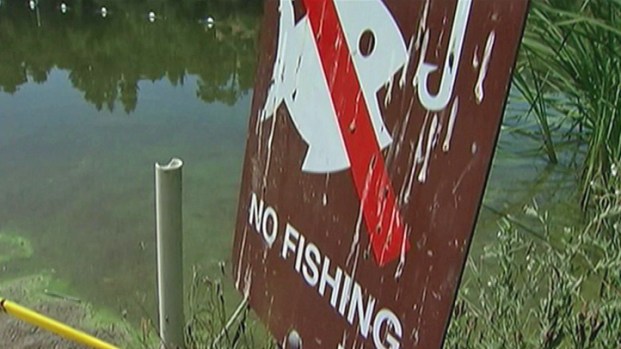 Park officials said toxic algae is a rare but natural phenomenon, most likely caused by the drought.
It's common for toxic algae blooms to break out in warm weather, but the park district said the drought is likely making the situation worse. Warmer temperatures prevent water from mixing, allowing algae to grow thicker and faster, according to the Environmental Protection Agency. Also, warmer water is easier for small organisms to move through and allows algae to float to the surface faster. And algal blooms absorb sunlight, making water even warmer and promote more blooms.
There are lakes and lagoons within the district that are not affected by the toxic algae. Those include: Cull Canyon in Castro Valley, Contra Loma Lagoon in Antioch, Don Castro in Hayward, Del Valle Recreation Area in Livermore, and Roberts Pool at Roberts Regional Recreation Area in Oakland.