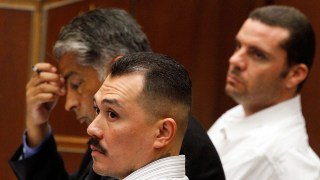 A man sentenced to eight years in prison for the brutal beating of San Francisco Giants fan Bryan Stow outside Dodgers Stadium in 2011 pleaded guilty Thursday to federal weapons charges, according to the U.S. Attorney's Office in Los Angeles.
Louie Sanchez, 32, pleaded guilty to possessing the guns while legally prohibited because of prior felony convictions. He was convicted of domestic violence in 2003 and evading a police officer in 2006. The guns were found when Los Angeles police searched co-defendant Marvin Norwood's Rialto home on July 21, 2011, while serving warrants for the attack on Stow, according to an affidavit by U.S. Bureau of Alcohol, Tobacco, Firearms and Explosives Special Agent Steven Goerke.
Stow was beaten in the Dodgers Stadium parking lot on March 31, 2011, after the Dodgers season opener against the Giants. The attack left Stow, a 45-year-old paramedic from Santa Cruz with two children, with severe brain trauma requiring daily care for the rest of his life.
Early last year, Norwood and Sanchez pleaded guilty to charges from the attack. Sanchez pleaded guilty to one count of mayhem and was sentenced to eight years in prison. Norwood, who also had a prior conviction for domestic violence, pleaded guilty to one count of assault and was sentenced to four years. But shortly after their sentencing, federal prosecutors indicted both men for unlawfully possessing the firearms found while executing the search warrants.
While the guns were found in Norwood's home, further investigation revealed that they belonged to both men, particularly a Bushmaster semi-automatic rifle that investigators learned Sanchez had purchased from his girlfriend's brother, Goerke wrote. The weapons recovered also included another semi-automatic rifle, a loaded shotgun, a .45-caliber handgun, a revolver and two high-capacity magazines, according to Goerke.
Norwood pleaded guilty to the federal charges last week and Sanchez changed his plea to guilty Thursday, according to prosecutors. Both men are scheduled to be sentenced on May 7.