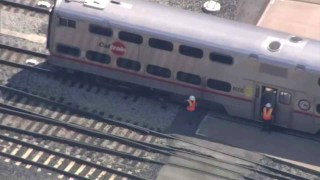 Caltrain tracks have reopened in both directions after a train struck an occupied vehicle on the tracks earlier Friday, but passengers are experiencing delays of 30 to 60 minutes, the San Mateo County Transit District said.
A train struck the occupied vehicle at 5:54 p.m. at the 25th Avenue grade crossing in San Mateo, temporarily delaying all trains.
Paramedics were treating the occupant of the vehicle at the scene, but none of the approximately 600 passengers onboard the train reported injuries.
At 6:17 p.m. the northbound tracks were cleared for movement, and maximum speed resumed about 20 minutes later, shortly before a tow truck removed the vehicle.
The southbound track reopened at 6:54 p.m.