The lights will stay on, and the game will go on.
That's the pledge from San Francisco city officials as well as Pacific Gas & Electric Company, who say that power infrastructure outside and inside Candlestick Park won't fail like it did last month, when two blackouts delayed a Monday Night Football contest.
PG&E copped blame for the first outage during the Dec. 19 nationally-televised game against the Pittsburgh Steelers, when a splice connecting two overhead wires on Ingerson Avenue near the stadium failed, according to reports.
The second outage in what Mayor Ed Lee dubbed a "national embarrassment" occurred when city-owned equipment that runs a switch on backup power inside the stadium malfunctioned.
Both city and PG&E said Wednesday that everything is fixed and ready to go for Saturday's playoff game against New Orleans. Kickoff is scheduled for 1:35 p.m.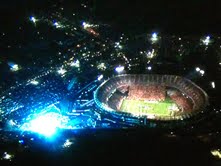 PG&E says it has strung new wire from Candlestick Park to a substation near the San Francisco-Daly City border in case a transfer of the power load is necessary. Lee said that multiple agencies, including the Public Utilities Commission and the Fire Department tested the city's power setup three times to mimic conditions seen during last month's blackouts with success.
"I think the only 'lights out' at Candlestick on Saturday will be our 49ers shutting down the New Orleans Saints!" said Lee, getting into the spirit of things.
Published at 1:27 PM PST on Jan 12, 2012 | Updated at 1:37 PM PST on Jan 12, 2012