The cleanup effort in San Jose continued Sunday as residents sorted through saturated belongings, assessed the damage done to waterlogged cars, and scraped away mud just five days after high-rising waters swallowed several neighborhoods.
A family of 11 has been allowed to pick up their belongings from their home, but that's it. Their house is completely off limits, and their lives have been flipped upside down.
"The whole backyard, basement, all our furnishings, belongings, everything is gone," flood victim Ulrika Caballero said. "We lost everything."
RAW: San Jose Mayor Liccardo Tackles Flood Questions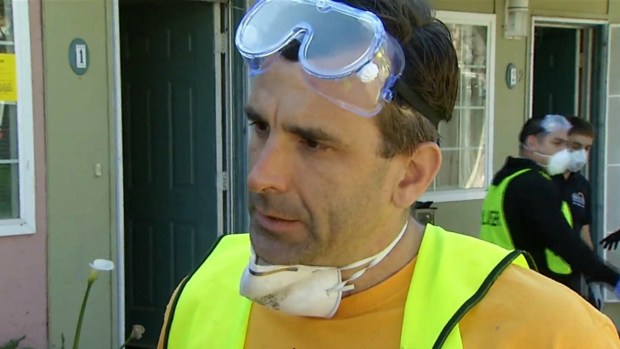 San Jose Mayor Sam Liccardo, who earlier in the week said more could have been done to prevent such a calamity from happening, once again rolled up his sleeves on Sunday and assisted in the cleanup effort.
"We're making progress in that we're helping families get back on their feet by getting rid of whatever is damaged in this flood," he said.
Those in the flood zones on Sunday were required to wear protective glasses and masks to safeguard against harmful bacteria that might be in the air as a result of the flooding, which spewed contaminated water carrying gasoline, oil, sewage, chemicals and other debris into various neighborhoods along Coyote Creek.
For those still unable to enter their damaged homes, an assistance center has been opened at the Shirakawa Community Center on Lucretia Avenue. The center, which is offering a number of services to help flood victims get back on their feet, will be open from 9 a.m. until 4 p.m. on weekends and 8 a.m. until 6 p.m. on weekdays. The center will provide answers to questions surrounding social services, housing services, vehicle repair and replacement, insurance issues, and more through March 4.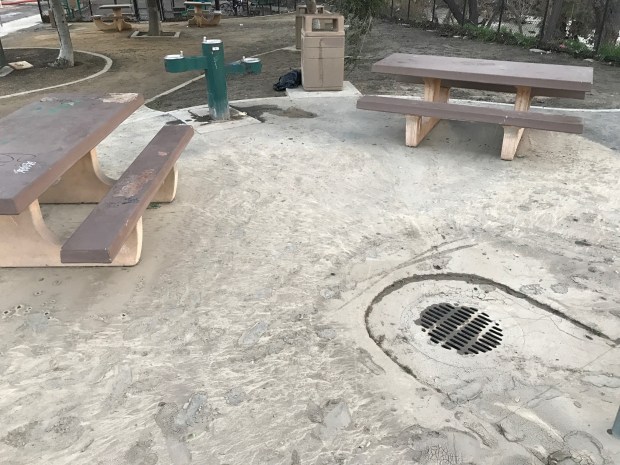 The Aftermath: San Jose Cleans Up After Historic Flooding
Some families wishing to rebuild tell NBC Bay Area that they received mixed messages from city officials at the assistance center about receiving money for housing vouchers and building permits. Liccardo cleared up those concerns Sunday by saying those fees will be waived.
"We are very clear that we are waiving all permit and inspection fees for anything having to do with getting families back in their homes," he said. "The (city) council will validate that action retroactively. For now, we're simply waiving the fees."
A total of 1,335 households as of Sunday remain yellow-tagged, and the city building team is working to help those properties with improvements or utility hookups that enable them to achieve green-tag status. That number is down from 4,554 units that were originally in the mandatory evacuation zone earlier in the week. Units in the Rock Springs neighborhood and mobile home parks along Oakland Road were cleared for re-entry, as was the William Street Park area, with the exception of three red-tagged buildings, the city said.
Flood evacuees who found overnight refuge for the past few nights at James Lick High School were forced to move before school starts on Monday. A new shelter has been set up at the Seven Trees Community Center, but moving to that location has proven to be a headache for some of the more than 200 people who relocated.
"It's just hard getting on with a toddler with our medical needs, just getting our resources," flood victim Krissy Loa said.
RAW: Aerial Footage Captures Extent of San Jose Flooding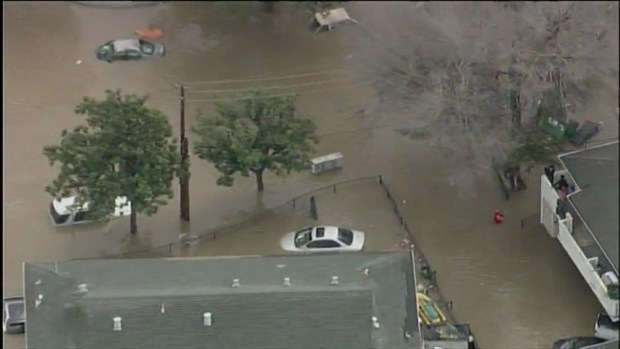 Shelters will eventually be forced to close their doors, but Liccardo said housing and hotel vouchers will be issued to those still impacted by the floods when that day comes.
"In the meantime, we are planning with how we are going to deal with those many families who will be displaced for a longer period of time because we know that some of these apartments are going to be yellow-tagged and even red-tagged," he said. "That's going to take time to get them back in."
RAW: Flooding Overwhelms San Jose Streets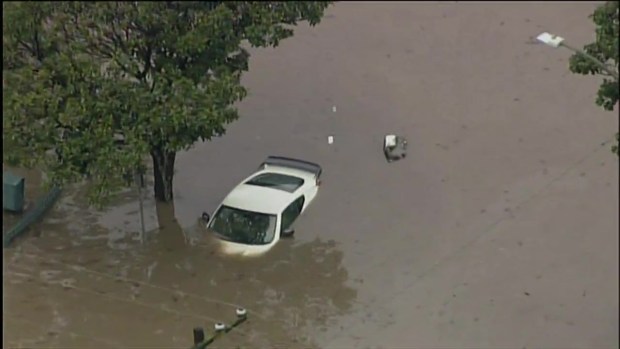 As for the money that has been donated to the San Jose Flood Victims Relief Fund, it will be distributed this week to nonprofits who will then pass along the funds to flood victims, according to Liccardo. But those funds won't cover all the costs that come with repairing a battered city.
"Obviously there is not enough money in that fund to take care of the extraordinary need we have here," Liccardo said. "We're certainly going to the state and to the (federal government) as well and we're going to have to keep fundraising."
Caballero is among those who could benefit from the financial resources.
"We don't know what's next," Caballero said. "I don't know what to do. We have no vehicles. I don't know how I'm going to get to work."
Some scattered showers on Sunday may bring minimal rainfall to the Bay Area, but the risk for additional flooding is low. Not taking any chances, city officials will monitor storm activity on a 24/7 basis, and city staff will take up posts throughout the affected flood areas in the event that assistance is needed.
Historic California Floods in Photos
The need to clean up the city has put an in-depth investigation into how runoff from the Anderson Reservoir and rainfall inundated neighborhoods with several feet of water on the back burner. Before that examination can be thoroughly undertaken, Liccardo accepts the blame.
"There's been a failure," he said. "I've said repeatedly, if it happened in my city, I'm responsible. So let's end the bureucratic fingerpointing. Let's figure out what we need to do to fix this and make sure for the next three months — we got more rain coming — we don't want to see this happen again. We are going to focus on fixing it as we're getting families back in their homes."
Aside from pinpointing the cause of the destruction, future discussions among city leaders will focus on how to improve San Jose's emergency notification system and install better flood protection structures along Coyote Creek.