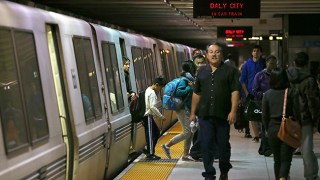 After shutting down service at San Francisco's Embarcadero station because of a report of a person under a train, BART police reopened the station Wednesday afternoon after not finding anyone under there, an agency spokeswoman said.
Trains were delayed after police received a report at 2:54 p.m. that a person was under a train on the East Bay-bound tracks. BART police performed a sweep and did not find anyone, BART spokeswoman Alicia Trost said.
BART had rerouted trains to run on a single track through the Embarcadero station and closed down the station to passengers.
BART officials said there will be residual delays but they expect service to recover now that trains and passengers will be allowed full use of the Embarcadero station.