A gunman "randomly picking targets" killed four people and injured at least 10 others, including two children, in a shooting rampage Tuesday during which he fired into an elementary school in rural Northern California, sheriff's officials said.
The alleged gunman, identified by family members as 43-year-old Kevin Janson Neal, was shot dead by Tehama County law enforcement officials. Officers recovered a semi-automatic rifle and two handguns, which they believe were used by the shooter, according to Assistant Tehama County Sheriff Phil Johnston.
Authorities did not confirm the identity of the gunman.
"People died here today," Johnston said. "This is a very tragic event for all of us. There are children involved. It's an emotional thing."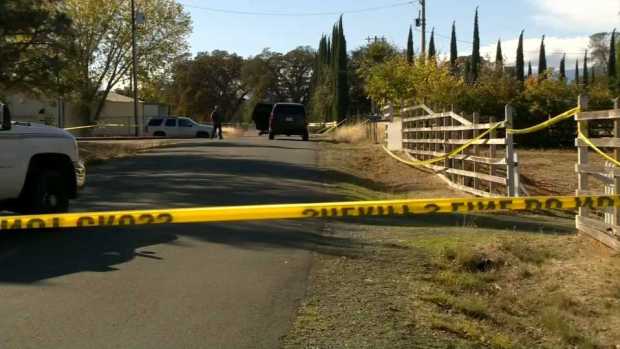 Five Dead, Gunman Killed After NorCal Shooting Rampage
Johnston said the gunman tried to get into rooms at the elementary school to shoot more kids, but a lockdown saved lives.
Johnston also said the gunman had a history with law enforcement, and that authorities are aware of a report that he was involved in a domestic violence incident on Monday.

The mass murder occurred in an area located between the cities of Chico and Redding, and involved a series of shootings, Johnston said. The first one was reported at 7:52 a.m. at Bobcat and Fawn lanes.
Johnston said the shooter had an ongoing dispute with a woman on Bobcat Road. He had assaulted the woman in January and shot and killed her Tuesday to start the spree. "Shooter drove by random homes shooting at them," he said.

Soon, multiple people called 911 to report that multiple shots had been fired at different locations, including Rancho Tehama School at 17357 Stagecoach Road, Corning.
"We are aware that there was a domestic violence incident as reported by neighbors involving the suspected shooter," Johnston said.
An estimated 100 law enforcement officers are investigating at least seven crime scenes, sheriff's officials said.
The shooter targeted the elementary school and shot multiple rounds into the campus, he said. One student was shot there and rushed to a hospital.
Another boy was struck by a bullet, while in the backseat of a pickup truck that was being driven by his mother. Johnston said the child is expected to survive, but his mother's injuries are "very life-threatening." Eight other people, whose ages and conditions are unknown, are being treated in area hospitals.
Earlier information from the sheriff's office indicated that two children had died, but Johnston clarified at a press conference that no children were killed in the shooting.
'Multiple Deaths' In California School Shooting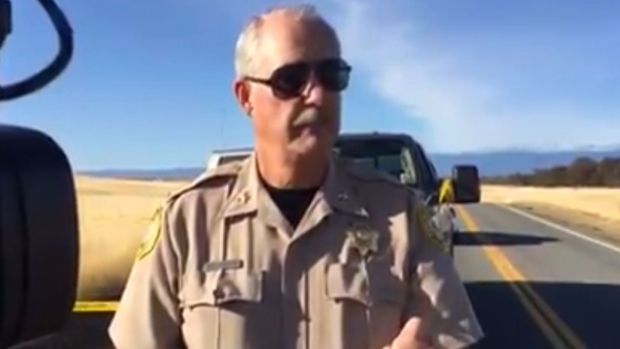 The shooter stole a vehicle before embarking on a shooting spree, Johnston said. He crashed that car, but didn't stop there.
The suspect then "robbed another car" before taking off, continuing to shoot indiscriminately and "without any provocation."
"We know of no real connection to any of the victims," Johnston said of the shooter. "Most of the victims in this case appear to be random selections."
Two officers encountered the suspect at an intersection and "enagaged" with him. Johnston said he was killed amid the exchange of gunfire. No officers were injured.
Police from nearby Red Bluff, investigators and crime scene analysts from the Department of Justice, Federal Bureau of Investigation and Tehama County District Attorney's Office, and California Highway Patrol officers are assisting across the "widespread scene," Johnston said.
Posts on social media showed Rancho Tehama Road being closed off with yellow crime tape, and students' parents stuck behind the road block. Johnston said he empathized with the parents and understood their frustation, but officials had to first "secure the area to make sure the children were safe." All families have since been reunited.
The man has not yet been publicly identified, but, Johnston said, he has had previous run-ins with the law. His motive remains unknown.

The bloodshed was "all over in 45 minutes," Johnston said, describing the shooter as "a mass murderer, really. That's what he is."
Jim Schultz, a reporter with Redding.com, was live-tweeting an interview with the alleged shooter's neighbor, Brian Flint, who said the suspect harassed him.

Flint said his truck was stolen and his roommate was shot and killed by the alleged shooter whom he described as "Kevin," a known felon in his 50s.
The suspect often fired multiple rounds during the early morning hours, and Flint said living near him was "hell."
"The crazy thing is the neighbor has been shooting a lot of bullets lately – hundreds of rounds, large magazines," Flint said. "We made it (known) that this guy is crazy and he's been threatening us and everything like that."
It's unclear who Flint had informed of the suspect's earlier actions.
Flint learned of the shooting via a phone call early Tuesday. When asked how he was feeling, he replied: "I just feel like maybe there should've been more effort put into potentially stopping things like this."
Salvador Tello said the gunman fired at a truck in front of him as he was dropping off his three children. Tello said he was about three blocks from the school when bullets made "big holes'' in the truck in front of him.
He said he forced his children to duck down and slammed his truck into reverse and headed to the children's grandmother's house.
"I put my kids down and put my truck in reverse and went out,'' he said. "I don't believe it because I wake up, take my kids, feed them cereal and put them in the truck and says 'Let's go to school like a normal day.'"
On the way, he said, he saw an apparent gunshot victim and police at another scene.
RAW: Four Dead, Gunman Killed in Northern California
A person with the username Javier Figueroa tweeted that the shooting had taken place at his brother's school. He wrote: "My mom just called me, there was a shooting at my little brother's school, 2 kids have been shot, parents are dead, my mother saw this and was in the middle of it. They went around the community shooting at the schools!"
Shortly after the shooting, Gov. Jerry brown issued a statement, saying: "Anne and I are saddened to hear about today's violence in Tehama County, which shockingly involved schoolchildren. We offer our condolences to the families who lost loved ones and unite with all Californians in grief."
Senators Kamala Harris and Dianne Feinstein echoed the sentiment.
"Another heartbreaking shooting, this time in Rancho Tehama, California. When will this stop and how can we stop it?" Feinstein tweeted.
Harris added: "Heartbroken by the news of a shooting at an elementary school in Rancho Tehama. Grateful to the officers and first responders on the scene."
California Assemblyman Brian Dahle also expressed his sympathy.
"My prayers are with the innocent victims, their families, and those who are hospitalized from the Tehama Shootings," he tweeted. "Let our Northern California community come together as one for those affected in this horrible time. We are #TehamaStrong"
Resident Casey Burnett said gunman was driving around and shooting randomly from his car. pic.twitter.com/eZUdcaj1f0

— Jim Schultz (@JimSchultz_RS) November 14, 2017
Scene from Rancho Tehama Elementary School. pic.twitter.com/ZPuCuxoydg

— Jim Schultz (@JimSchultz_RS) November 14, 2017
Here is part of an interview with the man who says his truck was stolen and his roommate was shot and killed by the alleged shooter who is described as a known felon in his 50's named Kevin. #RanchoTehamashootingpic.twitter.com/ZNdwmdOwU7

— Sara Stinson (@SaraStinsonNews) November 14, 2017
Officials say there at least 100 law enforcement officers on scene of about 5 different sites where the shooter opened fire. pic.twitter.com/jschtwbfAb

— Sara Stinson (@SaraStinsonNews) November 14, 2017
Rancho Tehama Road completely blocked off by crime tape. pic.twitter.com/UfFSlZwQxJ

— Sara Stinson (@SaraStinsonNews) November 14, 2017
Parents are in distress stuck behind road block not knowing the status of their kids at school in Rancho Tehama where the shooter ended up. pic.twitter.com/kf7afIPr7z

— Sara Stinson (@SaraStinsonNews) November 14, 2017
BREAKING: At least 3 dead in shooting in Tehama Co. it started at a home and moved to the school. Shooter shot and killed by police. pic.twitter.com/xIKvyIxq4y

— Sara Stinson (@SaraStinsonNews) November 14, 2017