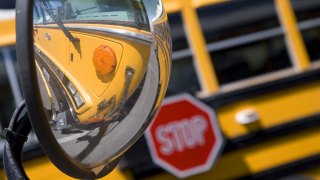 A Hayward woman who was struck by a school bus last month as she crossed the street died as a result of her injuries Wednesday, police said Friday.
Kaur Bhandaal, 69, succumbed to the injuries she sustained from the May 27 crash at the intersection of Elmhurst Street and Santa Clara Street, police said.
At 12:10 p.m., Bhandaal was crossing the street in a marked crosswalk when she was hit by a school bus, according to police. The driver, a woman in her 30s, failed to notice Bhandaal as she was making a left turn and struck the victim, according to police. Bhandaal sustained critical injuries and was rushed to Eden Medical Center, police said.
The bus had no students aboard at the time of the accident.
The bus is owned by the Hayward Unified School District and the driver is an employee of the school district, according to police.
Neither drugs nor alcohol are believed to be a factor in the crash, police said.
The incident remains under investigation and witnesses are encouraged to contact Hayward police at (510) 293-7149.