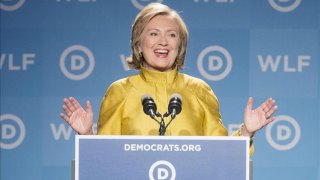 A day after she addressed the nation discussing her email controversy, Hillary Clinton made a surprise appearance at an eBay conference in San Jose on Wednesday where she addressed 500 eBay executives.
The conference, called the Women's Initiative Network Summit and held at the Fairmont Hotel in San Jose, focused mostly on gender and inequality issues, specifically in the workplace. The majority of the executives in attendance were women.
According to USA Today, Clinton received a standing ovation after addressing topics that ranged from international business to women's issues.
"There's never been a better time in history to be born female," Clinton said, according to the newspaper. "But, despite all the progress, the data shows we're not there yet. In the tech industry, there are still barriers and biases that hold back women and minorities. There's still a lot of work to be done."
Clinton will hold a "Ready for Hillary" fundraising event Thursday, followed by another next week.
On Tuesday, the former Secretary of State acknowledged it "would have been better" if she had used a government email address along with her personal one. She said she had never emailed classified material.