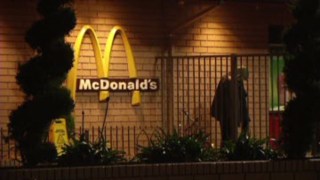 The owner of a San Francisco McDonald's that City Attorney Dennis Herrera has described as a "public nuisance" has finally responded to threats of being sued by the city by hiring a private security officer.
The large parking lot and property surrounding the fast food restaurant at 793 Stanyan St. has long been a magnet for crime. A security officer was on duty there until 2013 or 2014, James Sword, president of the Haight Ashbury Neighborhood Council, told Hoodline.
"HANC believes that the removal of private security from McDonald's in 2014 (or 2013) was a move that Mr. Yin, the franchise owner, used to attempt a quid-pro-quo with the city and neighborhood to allow him to install a drive-thru. He purposely has let the conditions worsen and put the security of this location on the shoulders of his minimum wage staff," Sword said.
Herrera sent a complaint letter to McDonald's CEO Steve Easterbrook earlier this month asking for help dealing with the chain's Haight location. Between January 2014 and April 2015, Herrera noted incidents on the property include 32 fights, assaults or batteries, two dog attacks, and eight car break-ins.
More prominently, there have been many arrests for the sale and possession of drugs.
"In the last six months the police have recovered more than 100 doses of LSD, over two pounds of marijuana, 88.5 grams of psilocybin (psychedelic mushrooms), more than half of a pound of marijuana edibles, and hashish from drug dealers selling their products on your property," Herrera wrote, adding that the SFPD has received more than 1,100 complaints about the Stanyan Street McDonald's since January 2012.
McDonald's could be held legally accountable for the "lawlessness" if the franchisee of the Stanyan Street location continues to refuse to address the criminal activity, and Herrera will not hesitate to file suit for violations of the California Drug Abatement Act and Unfair Competition Law if necessary, he wrote.
"The problems caused by the illegal activity at your property require constant police attention, thereby draining valuable police resources that cannot be devoted elsewhere," Herrera wrote. "No other business in the area has generated nearly the same number of calls for service to SFPD. We firmly believe that, in its current condition, your Property threatens the health and safety of the surrounding neighborhood."
Easterbrook sent NBC Bay Area a statement on May 13, saying in part: "I was not made aware of the claimed drug issues. However, I will continue to work diligently with the city and officials to make the restaurant a safe and enjoyable place for my customers."