Move over San Francisco Giants, you are no longer the only Division Champion in the Bay Area.
On Wednesday, the final game of the season, the Oakland Athletics clinched the American League West.
It wasn't even close. The A's beat the Rangers 12-5 in front of a sell-out crowd at the Coliseum.
The game ended when Grant Balfour retired Michael Young on a fly to center. The team poured out of the dugout and raced to the mound for a well-deserved group hug. The players quickly followed that celebration with a parade around the stadium to share the moment with the fans.
The win means the A's won't even have to bother with a play-in game Friday among Wild Card teams.
Instead they will begin the playoffs this weekend on the road. The A's will head to Detroit for Game No. 1 on Saturday.
The second seed A's will face the third seed Detroit.
A's ALDS Series Schedule:
Gm 1 A's at Tigers Sat Oct. 6 3:00 PM
Gm 2 A's at Tigers Sun Oct. 7 TBD
Gm 3 Tigers at A's Tue Oct. 9 TBD
Gm 4* Tigers at A's Wed Oct. 10 TBD
Gm 5* Tigers at A's Thu Oct. 11 TBD
The Yankees claimed the league's top spot and will face the winner of the Wild Card play-in game between the Texas Rangers and Baltimore Orioles on Friday.
This is the A's first division title since 2006.
Clinching on the last game of the season is exactly what the San Francisco Giants did in 2010. Yep, that was the year the team won it all and came away World Series Champions.
Even the most die-hard A's fans will tell you even they didn't expect the team to do this well this season.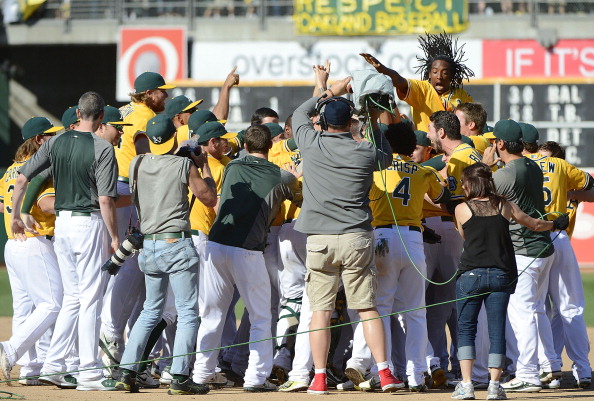 The team trailed Texas by 13 games at the end of June.
Even General Manager Billy Beane appeared to be surprised to see where his team ended the season. During a closed door session with reporters Beane said he didn't set expectations for his team.
"We wanted to create a team that had a chance to get better from the first day forward. That was the expectation we set," Beane said.
Oh, and let's not forget this little detail: The A's have a $59.5 million payroll, which is the lowest in baseball.
Last year the A's suffered a 74-88 year finishing in third place in the AL West 22 games behind the division champion Rangers.
Fast forward one year and they beat those same Rangers to clinch the division.