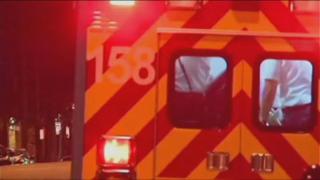 A San Jose man was one of three people killed when two big-rigs collided on Interstate 80 in Nebraska on Sunday evening, according to the Nebraska State Patrol.
Hieu Trung Le, 56, died in the crash that occurred shortly before 6:30 p.m. near Hershey in Lincoln County. Two other men, Duy Trong Dao, 31, of Sacramento, and Zurabi Mdzeluri, 37, of Brooklyn, New York, also died in the crash.
Investigators determined Le was driving with Dao as a passenger in an eastbound big-rig hauling produce when it crossed the center median and struck a westbound car hauler head-on, then sideswiped a passenger vehicle.
The car hauler driven by Mdzeluri came to rest in a ditch, while the truck carrying produce came to rest blocking the westbound lanes of the highway. Both big-rigs caught fire and all three men died at the scene, according to the Nebraska State Patrol.
No one in the passenger vehicle was injured. The investigation into the crash continued Monday.