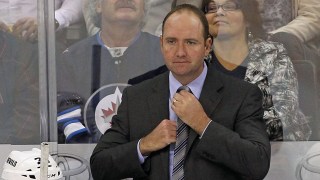 The San Jose Sharks will hire former New Jersey and Florida coach Peter DeBoer to replace the departed Todd McLellan.
A person familiar with the search said Wednesday that DeBoer will be formally introduced later this week. The person spoke on condition of anonymity because the team had not announced the hire yet. ESPN first reported the move.
On Wednesday afternoon, the Sharks sent out a media invitation to introduce the team's "new head coach" on Thursday at 1 p.m.
DeBeor replaces Todd McLellan who left the team in April after the Sharks didn't make the playoffs, the first time since 2003. DeBoer was one of McLellan's assistants for Team Canada at the World Championships.
DeBoer took over in New Jersey the following season, and led the Devils to the Stanley Cup Finals where they lost to the Los Angeles Kings.
New Jersey missed the playoffs in 2013 and 2014 and DeBoer was fired 36 games into the 2014-15 campaign after a 12-17-7 start, Comcast Sports reported.
Before that, DeBoer was the head coach of the Florida Panthers for three seasons and was fired in 2011 after missing the playoffs all three seasons.
Still DeBoer has won coach of the year of the award, twice, in Ontario, Canada.
McLellan spent seven seasons in San Jose and most recently has been the head coach in Edmonton. He is also co-owner of the Oshawa Generals of the Ontario Hockey League.
The Associated Press contributed to this report.