A day after being released from a Florida jail, the teen at the center of a police exploitation scandal returned to Oakland, where her newly hired civil rights attorneys attacked men, public safety officials and blamed them for abusing a "child sex slave victim."
"She is not the problem," attorney Charles Bonner said Thursday at a news conference at Frank Ogawa Plaza at Oakland City Hall. "She is not to blame. Men are the problem."
Bonner said Jasmine wants justice against the officers because she knows there are other young victims out there.
"She has seen them," Bonner said. "She feels sorry for them. She feels the only way we can save them and rescue them is for the cops to be held accountable and go to jail."
Bonner and civil rights attorney Pamela Price, who ran an unsuccessful campaign two years ago to replace state Assemblywoman Nancy Skinner, are both representing a 19-year-old formerly known by the pseudonym Celeste Guap, who asked on Wednesday to be called by her real name.
NBC Bay Area does not usually name victims of sexual abuse, but has decided to refer to her now by her first name of Jasmine.
RAW: Civil Rights Attorney for Jasmine Speaks to Media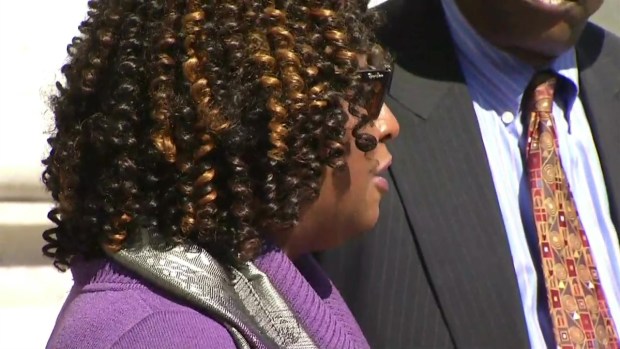 "Since May 2016, citizens of the Bay Area have been shocked and appalled by revelations of abuse of power by police officers in six different law enforcement agencies," Price said. "The central figure caught in the eye of the storm is a teenage girl, who says that she has lived in the Bay Area's commercial sexual exploitation marketplace since she was 12.
"She said in her last interview from jail I was having sex with men because that's all I knew," Price added. "All kids make bad decisions. All kids do things their parents are shocked by. The question is how does the community respond. ... This child deserves a second chance."
Price and Bonner once again pointed fingers at the Richmond Police Department for allegedly sending her clear across the country for rehab, something the Richmond police and city officials has denied.
"They made arrangements, they suggested, they appointed, they designated this facility as a place for this child to go," Price said. "It's all going to come out. Every lie has an expiration date, and it's all going to come out."
She added: "This was an obstruction of justice at the highest level."
Jasmine has accused dozens of police officers across the East Bay of having sexual relationships with her over the years. And Alameda County District Attorney Nancy O'Malley announced last week that she would pursue criminal charges against seven current and former law enforcement officers, including five from the Oakland Police Department, for conduct related to Jasmine. The most serious charges the officers will face is felony oral copulation with a minor.
O'Malley couldn't proceed with the charges until Jasmine returned from Martin County, Florida, where she was charged with biting an employee from a drug rehab center. Jasmine pleaded no contest to a misdemeanor battery charge on Wednesday and was set free after serving 17 days in jail.
Bonner explained on Thursday that the reason Jasmine bit the worker was because he had put his arms around her and she was trying to leave his grasp. Jasmine also said she didn't feel feel the rehab facility was on the up-and-up.
Meanwhile, the Contra Costa District Attorney's Office released a statement Thursday regarding additional allegations in its jurisdiction, saying it is working with its fellow law enforcement officials to investigate.
"It goes without saying that our office will always investigate any alleged sexually assault or human trafficking crimes that occur within our county, and we're committed to holding anyone who committed such crimes in Contra Costa County accountable for their actions," District Attorney Mark Peterson said in the statement.
Price had a scathing response to Peterson, too.
"My response to Contra Costa county decision to continue to investigate is one of great concern," she said. "I think the district attorney, Mark Peterson, should explain to the citizens of Contra Costa County why it has taken him more than a year to reach a conclusion to an investigation."
Jasmine, who has given several media interviews over the last several months, stayed silent during Wednesday's news conference. She was not present at Thursday's event.
NBC Bay Area's Jodi Hernandez and Cheryl Hurd contributed to this report.