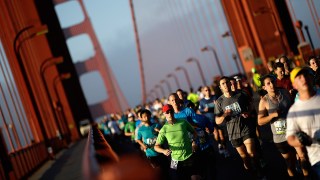 The annual San Francisco Marathon will be celebrating its largest year yet this Sunday, with 27,000 participants signed up to race around the city streets.
Runners participating in either the full marathon, half marathon or 5K will be able to jog across the Golden Gate Bridge and enjoy the Embarcadero's waterfront as their view.
The race, which is now in its 39th year, will kick off at 5:30 on Sunday morning. Participants will trek the circular route, beginning from the starting line at Mission Street and ending on Folsom Street. The thousands of runners come from all 50 states and 67 countries around the world.
The runners are also given the opportunity to make their miles count by either donating to the marathon's official partnered charities, such as Canine Companions and Miles for Migraine, or setting up a personal fundraising page for a cause of their choice.
All five runs have been sold out since June, but Michelle LaFrance, Vice President of marketing and strategic partnerships for the marathon, said that there are plenty of things to enjoy at the event even without participating in the race.
The "Bigger, Better Finish Line Festival" following the end of the race will feature food trucks, a beer garden and free massages. The marathon's Expo offers interactive technology for the runners, including a Fitbit to track their run.
Sunday's run is one of the few marathons that starts and ends in the same place, and the circuitous path offers many benefits for both the runners and those watching.
"I love that our marathon is a loop course," LaFrance said. "I get to see all of the excitement of the runners on the start line. It's amazing to see everybody's journey come together in the same place."