Singer-songwriter Akon noticed a trend during a recent tour of Africa: a lack of electricity.
With 600 million Africans still eating and working by candlelight he decided to launch "Akon Lighting Africa" in February 2014. Aimed at bringing solar power to nearly half of the 600 million living without electricity, ALA has provided solar street lamps, micro-generators, charging stations and home kits to people in 14 countries.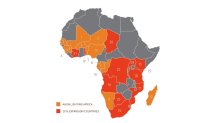 "Africa needs to be sustainable for a long time and be a crutch for the rest of world instead of the other way around," Akon told ThinkProgress in a phone interview. "A stable Africa helps the world."
The Missouri-born Senegalese American is no stranger to the electricity situation in Africa. Though born in St. Louis, Akon was raised in Senegal, in West Africa, until the age of 7.
According to Ivory Coast Prime Minister Daniel Kablan Duncan, Africa holds 15 percent of the world's population, but the continent only consumes 3 percent of the global electricity. More than 1.3 billion Africans have no access to electricity and only 5 percent living in Sub-Saharan Africa have electricity.
Electricity from solar has the potential to change that. ALA plans to continue to install solar street lamps and solar panels on homes and in the street, as well as providing educational training programs called Solar Academy. The first has blossomed in Mali's capital of Bamako.
"We want to empower the people to develop their own opportunities," Akon said. "[But] before you empower people you have to educate them."
This year, Akon and co-founders Samba Bathily and Thione Niang have been to several countries in Africa, including Kenya, Guinea and Benin. Last week, the co-founders spoke and attended meetings in Congo, Nigeria and Rwanda.
Back in the states, 2,000 fans got involved in the campaign when they showed up to Centennial Olympic Park on July 19 for the Passport Experience Festival in Atlanta. Proceeds from ticket sales went toward ALA.
The Akon Lighting Africa initiative has brightened 14 countries in just one year and plans to launch campaigns in an additional 11 countries by the end of 2016. ALA plans to help light all of Africa by 2020.