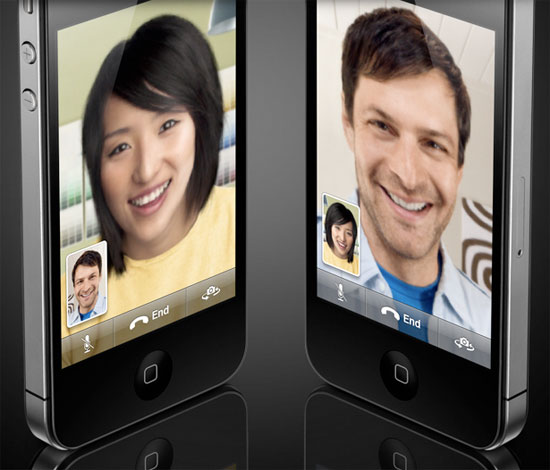 The iPhone 4 has found its way into the hands of select reviewers (read: approved by Apple) and it's no surprise that they're loving it. The enthusiasm isn't baseless, though.
The 4th generation iPhone is scoring high marks for its new design and screen, its FaceTime video chats, HD-quality video recording abilities and its longer battery life.
Poor AT&T, though: the carrier that has brought us the iPhone since '07 just can't catch a break, as the reviewers collectively slammed the company's service.
What reviewers loved:
Boing Boing's Xeni Jardin was among the reviewers to go gaga over the iPhone 4's shiny new curves: "The squared-off, thinner, steel-and glass form is more masculine, more substantial. Like a really hot designer watch." She also praised the sharpness of the new screen: "The display is a huge leap forward. It's really crisp, and hues are more true… This is particularly noticeable when you are reading large stretches of text, or comparing one photo on both devices, side by side."
"The killer feature is what Apple calls FaceTime video chat," USA Today's Ed Baig said of the iPhone's new trick. "No one has really nailed video calling through the years, at least not the way Apple has nailed it here, with certain limitations." (The limitation mentioned is that iPhone 4s can only FaceTime with one another, and only over Wi-Fi. No 3G video chat yet.)
Engadget's Joshua Topolsky really digs the iPhone 4's larger, more powerful battery, saying he "managed to squeeze more than 38 hours — yes, 38 hours — of life out of a single charge using the phone as we normally would." That's after "talking calls, some gaming, lots of push email and calendar invites, playing music over Bluetooth in the car, and just general testing."
There's the iPhone 4's improved 5-megapixel camera in the back, too, about which The New York Time's David Pogue said that it's "still no rival to a real camera" when it comes to taking stills, yet it manages to be the "equivalent of a Flip camcorder" when it comes to video.
What reviewers hated:
AT&T took most of the flak, mostly for dropped calls and choppy service. Still, the reviewers pulled no punches. The Wall Street Journal's Walt Mossberg was the most brutal, writing, "on at least six occasions during my tests, the new iPhone was either reporting 'no service' or searching for a network while the old one, held in my other hand, was showing at least a couple of bars. Neither Apple nor AT&T could explain this." His coup de grâce? "Apple needs a second network."
CNET's Kent Graham, while happy that multitasking, a unified in-box and home screen folders have finally made it to the iPhone, points out that "competing smartphones have long had these features." There's something else the iPhone doesn't have on its competitors, too, which rattled Ed Baig a little: "Apple's public dissing of Adobe Flash means you'll still come upon Web video sites that don't make nice with the iPhone."
There are also some areas where the iPhone has reigned, though maybe no longer, according to Pogue: "Now, the iPhone is no longer the undisputed king of app phones," he writes. "In particular, the technically inclined may find greater flexibility and choice among its Android rivals… They're more complicated, and their app store not as good, but they're loaded with droolworthy features like turn-by-turn GPS instructions, speech recognition that saves you typing, removable batteries and a choice of cell networks."
Read the reviews:
Via MSNBC
Copyright DVICE - DVICE