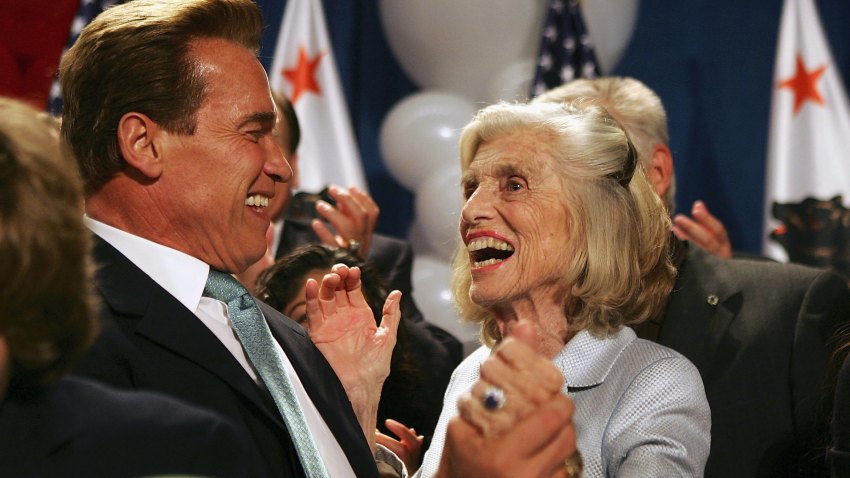 John F. Kennedy's sister remains at a Massachusetts hospital with her family by her side.

Eunice Kennedy Shriver has suffered a series of strokes and is in critical condition at Cape Cod Hospital in Barnstable.

Her children and family have traveled to be with her, including her son-in-law, California Gov. Arnold Schwarzenegger. He traveled to the Cape with his wife Maria Shriver late last week.

Schwarzenegger returned to Sacramento on Sunday night to attend to state business, but will soon go back to the Cape to be with family.

His spokesman, Aaron McLear, said he did not know when Schwarzenegger would leave California again.

The governor pulled out of the National Clean Energy Summit in Las Vegas due to his mother-in-law's illness.

He had planned to join a who's-who of environmental leaders at Monday's summit in Las Vegas, including former vice president Al Gore and Energy Secretary Steven Chu.

The 88-year-old Shriver is the fifth of the nine Kennedy children. She's perhaps best known for her work to establish the Special Olympics.

That work was inspired, in part, by the struggles of her mentally disabled sister, Rosemary.

Maria Shriver's father, Sargent Shrive, suffers from Alzheimer's Disease.
Pope Benedict XVI is among thouse praying for Kennedy Shiver.

The Vatican ambassador to the United States says in a letter released to The Associated Press on Monday the pope is "holding close to his heart Eunice as she is called home to eternal life."

Archbishop Pietro Sambi says the pope prays Shriver is rewarded for her ardent faith and generous public service, particularly for those who are physically and mentally challenged.
Copyright AP - Associated Press