Fast-food restaurant employees in the Bay Area joined the largest-ever strike to hit the billion-dollar industry on Thursday, walking off their jobs for and telling the nation that they can't afford to take care of their families with the salaries they now earn.
The workers are demanding a pay increase to $15 an hour -- federal minimum wage is $7.25 per hour, California's minimum rate is $8 per hour -- and the right to form a union without retaliation or unfair labor practices as part of a larger movement in more than 50 cities across the country.
PHOTOS: Fast Food Workers on Strike Across the Country
"Our workers are not getting paid sufficiently to take care of our families," Shonda Roberts of Oakland said outside the McDonald's on East 12th Street in Oakland, where more than 100 people had gathered to march and carry signs that said things like "Super Size My Wage." "We are hungry and we can barely pay our rent."
The walk off drew workers from McDonald's, Wendy's, Burger King, Taco Bell, El Pollo Loco, Jack in the Box and other retail stores.
McDonald's issued a statement saying the company respects the "strong relationships" it has with employees and the company also offers to offer competitive pay and benefits to its employees.
The strike comes in the wake of walkouts by workers around the country earlier this summer, including from Walmart, car washes and warehouses, and BART union members.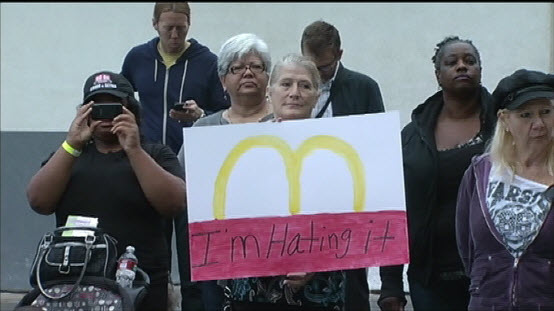 The federal minimum wage of $7.25 per hour was last increased in July 2009. Californias' minimum wage was raised 50 cents to $8 per hour in January 2008.
Many states have minimum wage laws that set a different rate than the federal law. In those states, the higher standard applies.