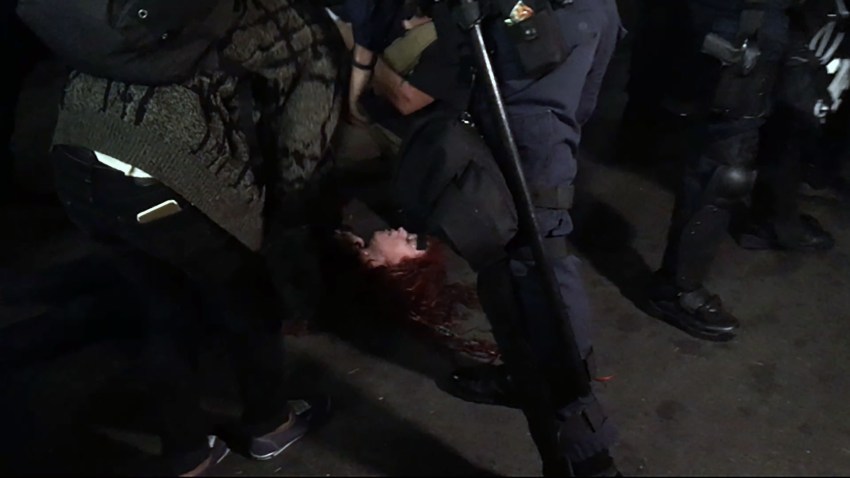 Berkeley police shot down a viral rumor that a woman was stabbed in the neck during Thursday's protest outside of Ben Shapiro's speech at UC Berkeley.
The rumor started when Kyle "Based Stickman" Chapman tweeted a photo of a young woman lying on the street during the protest, surrounded by police officers. The right-wing provocateur added the caption, "A Ben Shapiro supporter was stabbed in the neck by Antifa terrorists last night in Berkeley CA." He also asked his followers to "pray4her."
Chapman, who is facing charges for allegedly assaulting a protester in March, shared the tweet with his 32,000 Twitter followers and also posted a similar message on his Facebook page, where it was shared close to 5,000 times. Citing Chapman's tweet, several right-wing blogs — including one helmed by former Breitbart editor Milo Yiannopoulos — ran the reported stabbing.
Berkeley police attempted to squash the rumor shortly before 10 a.m. Friday.
"Online accounts surrounding a stabbing at last night's protest are false," the official BPD page tweeted. "She fell and wasn't pushed. No fight. That is what she told us at the scene. These are the actual facts."
NBC Bay Area reporters witnessed the photographed incident. It appeared that an argument broke out over the woman's pro-Shapiro protest sign — which she had been holding while teetering on a light pole — and she fell backward onto the street.
The fall happened at about 9:30 p.m, shortly after the Shapiro event ended. Emergency responders arrived at Bancroft and Telegraph by 9:40 p.m. and took the woman away on a stretcher.
As of Friday evening, Chapman's original tweet was still up, though he did clarify in a subsequent message that he heard the story through a second-hand source, who hadn't seen the stabbing, either.

Scores of Chapman's followers remarked that the woman appeared to be lying in a pool of blood. In fact, the picture shows the woman's red hair fanned beneath her head.
All told, about 700 people came to see conservative commentator Ben Shapiro speak at UC Berkeley, while about 200 hundred people protested outside the event.
Berkeley police, clad in riot gear, made at least three arrests before the event started at 7 p.m. Officials later said a total of nine people were arrested. The university spent $600,000 to enhance security measures during the closely-watched speaking engagement.
Police identified five of the people arrested. Sarah Roark, 44, of San Bruno; Hannah Benjamin, 20, of Fremont; Eddy Robinson, 44, of Oakland and Michael Paul Sullivan, 29, of Hayward were arrested for carrying banned weapons, police said. And Kerem Celik, 18, of Saratoga, was arrested for disturbing the peace.
Chapman is currently free on $135,000 bail in relation to the assault charge at a previous protest. He is scheduled to return to court on Oct. 12.