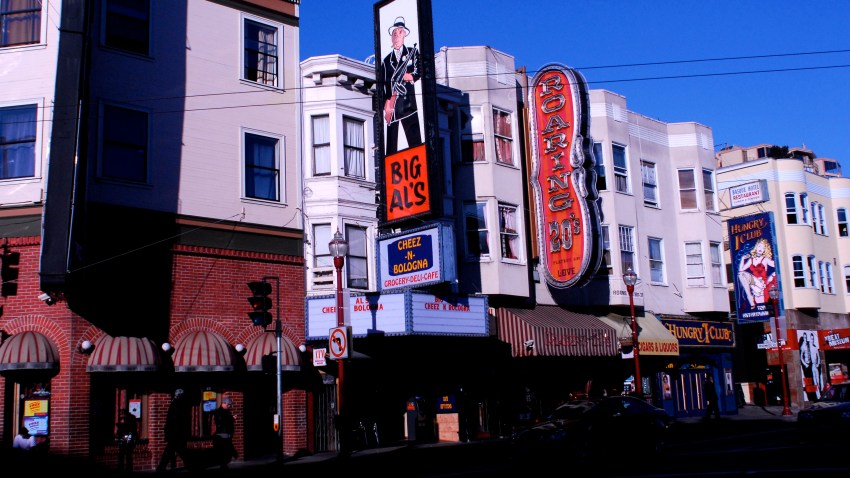 Any time a new business opens in an old location, it's a sure bet the previous customers will regale the new owners with tales of what was there before.
So you can only imagine the stories Khaldoun Alsati (pictured) has heard since opening a grocery store in the former site of North Beach's legendary Big Al's Porn Superstore.
"It's like a landmark for that name," Alsati said, leaning against a shelf of perfectly innocuous canned food. "Everybody knows it."
Big Al's was a sexy staple tucked in among the row of raunchy strip clubs on Broadway. Although it carried regular old porn, it was famous for its stripper clothing and devices for making what the character Borat might call "sexy time!"
But a year ago, sexy time came to an end and the store closed. Alsati, who owns a liquor store a few doors down, pounced on the location for his new grocery store. But despite months of renovations aimed at making the place respectable, he said strippers from the neighborhood still come in, peering past the juice bar and deli counter.
"The girls are asking me if I can carry the high shoes and the outfits they wear for dancing," said Alsati with a smile.
Alsati is certainly not shrinking from the business' sexy past. He kept the famous Big Al's sign out front with its giant mobster figure bearing a Tommy gun. He slightly tweaked the presentation, renaming the business Big Al's Cheez N Bologna.
"I see people pass by and look at the 'Cheez and Bologna' and say 'What is it?' " said Alsati.
Of course you can't open a grocery store in a former porn shop and not expect a few snide comments.
"It's gone from vibrators to fresh cucumbers," wisecracked North Beach fixture Stefano Cassolato.
You might also be tempted to describe Big Al's as the meat in an erotic history sandwich. On one side is the Hungry I strip club, named for the legendary North Beach comedy club where Bill Cosby and Lenny Bruce once performed.
Flanking its western edge is the Condor Club where erotic dancer Carol Doda famously broke the clothing barrier in the 60s by baring her breasts.
Alsati said the remodel of his space unearthed its own historical artifacts – an electrician working in the basement was beaned in the head by a sex toy that fell from the ceiling.
The opening of a grocery store among the sea of garish neon and strip club barkers might seem a bit out of character for Broadway. But local business owners said it's badly needed in a neighborhood that's light on grocery retailers.
"What we need is more foot traffic during the day," said Nader Marvi who runs a neighborhood business collective called the Voice of Broadway. "Broadway is dead during the day."
As for selling food in a place that has seen its share of … ahem … "activities," Marvi laughed , "as long as they wash all the walls before they sell all the groceries."
For now, Alsati is sticking to the staples: fresh juice, canned goods, frozen foods, perfume and household cleaners. The most erotic offerings are boxes of condoms.
But Alsati is a businessman after all , and not one averse to opportunity. As he explained the adjustments he plans to make to his layout, he pointed conspiculously to the back of the store, once the site of Big Al's movie theater.
He said he's thinking about once again stocking clothing and accessories for the neighborhood's working girls -- all for the sake of history – right?