As many as 10,000 people are expected to crowd into the Crossroads of the West gun show this weekend at the Cow Palace.
The lines wrapped around the building an hour ahead of the opening Saturday. Some people said they got there at 4 a.m.
The show, which is being held Saturday and Sunday will include more than 150 vendors selling everything from guns and ammunition to knives and jewelry.
No one was able to leave with a gun because of California's 10 day waiting period, but there were able to walk about with ammunition and lots of people were seen leaving with boxes of bullets.
As the nation looks at a possible ban on assault weapons and high capacity magazines, there is already a law on the books here in California. Still, the owner of the show, Bob Templeton, says the big turnout which he claims was triple the number from last year, is being fueled by a fear that the nation's gun laws will change in other ways in light of the Newtown, Connecticut mass shooting.
Several attendees told us they agree the debate in Washington, D.C. is sparking added attention to gun shows.
"Things are just flying off the shelves. people are so concerned that they're not going to be able to buy arms and ammunition to defend themselves or to go hunting, or anything in the future," gun owner Hugh Vincent said.
There were gun owners who told us they support some of the national proposals to curb gun violence, including a requirement for background checks for everyone who purchases a gun.
That requirement also already exists here in California.
Crossroad officials estimate that in the last few weeks attendance at their shows has roughly doubled.
Templeton was among the people discussing possible new legislation with Vice President Joe Biden this week in Washington, D.C.
"We'd like to see mental health issues addressed, we feel like we need more community health resources, those are the things we think need to be addressed before we go down the road, the slippery slope of gun control," Templeton said about his meeting with Mr. Biden.
A Crossroads gun show down in southern California last weekend also drew thousands of people.
Some 6,000 people filled the Ontario Convention Center on Saturday alone.
Templeton said during that show manufacturers can't keep up with the current demand for firearms and ammunition.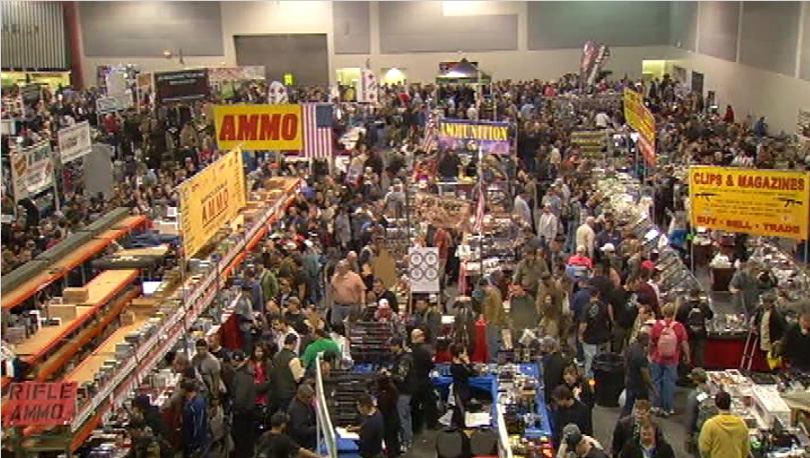 Last weekend, hundreds of gun enthusiasts wrapped around the convention center to enter the gun show and inside the packed convention center, 720 tables display firearms, not including assault weapons similar to those used in the Newtown, Conn., massacre.
The ammunition tables became so congested on Saturday that promoters had to reroute the crowd.
Similar crowds are expected in Daly City.
California Senator Dianne Feinstein said legislation would be introduced this session to limit sale, transfer and possession of assault weapons. That had the gun show crowd fired up.
"Some politicians are using these tragic acts to generate enthusiasm for restrictive gun measures," Templeton said.
Attendees cite gun laws in California, among the strictest in the nation, and Saturday's overwhelming response as a message that owners are not backing down from their right to responsibly bear arms.