Residents of the unincorporated Contra Costa County community of Blackhawk near Danville are offering a reward of $25,000 for information leading to the arrest and conviction of suspects connected to a string of burglaries in the community, sheriff's officials said Monday.
On Friday at 7:30 p.m., someone called Blackhawk police services to report a burglary in the 5400 block of Blackhawk Drive. A surveillance camera captured images of three people entering a home and stealing valuables and other property, sheriff's officials said.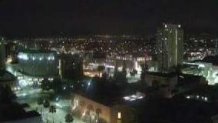 According to sheriff's officials, the suspects match the description of suspects in previous burglaries in the community.
Anyone with information about the suspects is asked to call Blackhawk Police Services at (925) 736-1018 or the investigative division of the sheriff's office at (925) 313-2600.
Tips can also be sent by email to tips@so.cccounty.us or left anonymously at (866) 846-3592.
Copyright BAYCN - Bay City News