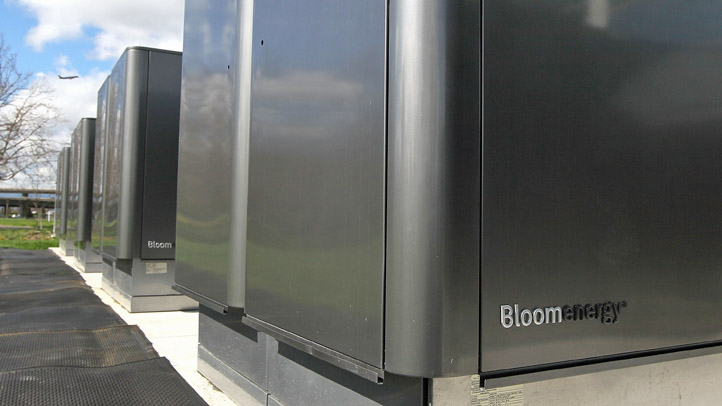 Nearly three months after it was originally scheduled for a vote, the California Public Utilities Commission approved new standards for the Self-Generation Incentive Program, but critics say the new standards don't go far enough to meaningfully reduce carbon emissions or meet Gov. Jerry Brown's mandate for a cleaner California by 2030.
The new standard calls for a starting emissions threshold of 334 kilograms of carbon dioxide per megawatt hour in 2016, dropping to 321 kg CO2/MWh in 2020.
The latest greenhouse gas emission eligibility standard was 379 kg CO2/MWh. While the new emission level is better than that, it's not the 20 percent greenhouse gas reduction that critics and environmentalists wanted.
Earlier this year, Gov. Brown said he wants half the power in California to come from renewable resources in the next 15 years.
In August, Assemblymen Das Williams (D-Santa Barbara), Richard Bloom (D-Santa Monica) and Anthony Rendon (D-Lakewood) sent a strongly worded letter to CPUC President Michael Picker criticizing his plan to reform the SGIP standards, saying the program delivered "minimal benefits at extremely high costs."
The legislators wanted an overhaul of SGIP to stop "the absurd practice of subsidizing natural gas consumption, supporting existing technologies that have already taken hundreds of millions of dollars."
One of those existing technologies is the Bloom Energy fuel cell. The private Sunnyvale company has received the lion's share of SGIP funds. According to Bloom, the best emission rate for its most efficient fuel cell model is 333 kg CO2/MWh. That comes in just under the new standard of 334 kg CO2/MWh.
Bloom publicly opposed any changes to the SGIP standards, but will still qualify under the new plan.
"Bloom Energy applauds the CPUC's deliberative process and decision to ensure SGIP continues to support the most advanced greenhouse gas reducing energy technologies in California," Bloom spokeswoman Alanna Gino wrote in an email.
Commission spokesman Chris Chow said the formula used to determine eligibility requirements has been used by the commission in the past, and that it was "not designed with any one company or technology in mind."
"In fact, based on prior filings at the CPUC," Chow wrote in an email, "Bloom Energy and other companies like it will need to improve their lifecycle emissions if they are going to continue to qualify for the program."
SGIP was created in 2001 to fund innovation in green technologies and cut greenhouse gases. Since then the program has awarded $1.4 billion in incentives. An additional $415 million in program funds is now at stake. The program is funded by ratepayers.
If you have a tip for the Investigative Unit email theunit@nbcbayarea.com or call 888-996-TIPS.