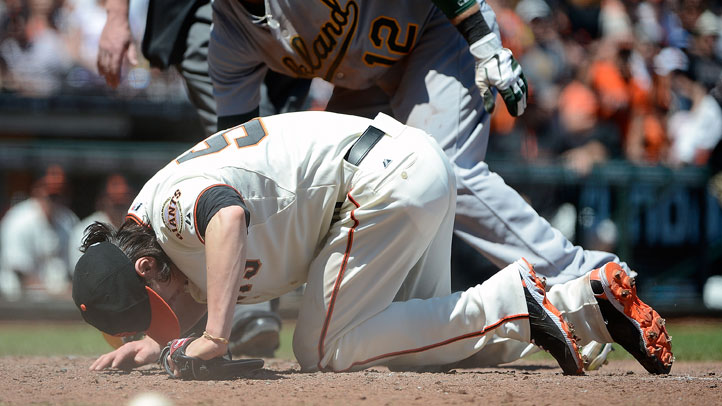 It almost seems silly to write this sentence, but here goes anyway: Bruce Bochy is not going to send Tim Lincecum to the bullpen. Also: Timmy's wearing a bandage after his collision Sunday.
But, no, really, Bochy was asked about the possibility on Monday night in Milwaukee and, per Chris Haft of MLB.com, shrugged off the possibility of putting Boch in the bullpen.
"He throws too well at times to make any move like that," Bochy said. "Every time he goes out there, I think he's going to have a nice game. He's so close to doing that."
First up, let's once again direct you towards our "One Big Inning" post on Lincecum: it's not like Timmy's strolling out to the mound and lobbing up 100 fully-ripe grapefruits, giving up 15 runs and leaving. He's been dominant for stretches of games and incredibly frustrating for short sections of games. It reeks of a confidence thing. (And Tim's dad would agree as well.)
Second of all, is this really a real thing to ask Bruce Bochy? Because it shouldn't be. Assuming that Lincecum's struggles aren't mechanics, injury or another physical issue (velocity excepted), it's not even reasonable to consider stabbing his confidence with a trident by shipping him to the bullpen.
Not to mention, it would wreck the team's rotation. Whatever, to the actual news: Lincecum was wearing a bandage after his collision at home plate with the A's Collin Cowgill.
The bandage, per Haft, involved a "wrapped left thumb and a bandaged wrist."
"It's precautionary more than anything else," Lincecum said.
Lincecum also said it doesn't mess with his routine in between starts, although switching that up a little bit before his next outing wouldn't be too terrible of an idea.
At least not as terrible as the thought of sending Lincecum to the bullpen anyway.