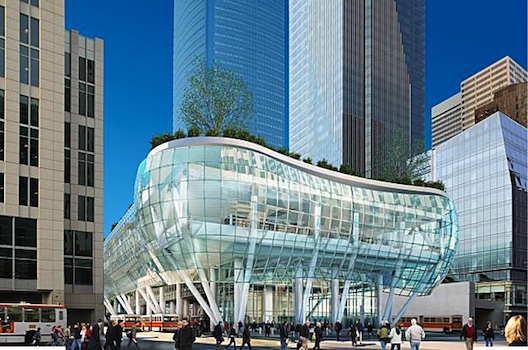 Front page of the San Francisco Chron Thursday, John King reports on the completed Transbay Transit Center plan, which has received a few simplifications to its design, but maintains the same glassy bulbiness we've come to know so well.
More importantly, King writes that "it's a mark of today's slow economy" that the $1.189 billion budget, set in 2007, remains intact — and in fact now includes the 54 5.4-acre rooftop park, which was previously to be funded separately.
But other things have been cut from the project. The park itself, designed by PWP Landscape Architecture, has lost the waterway along one edge, and the five skylights (a.k.a. "light columns") that penetrate the building have been cut down to three.
Even the Transbay Tower, the thousand-foot high-rise that's supposed to help fund the self-improvement project, is in some doubt: as developer Hines continues negotiations on the land sale and the city continues to figure out the zoning, "the new design treats the building's planned footprint as a plaza filled with a grid of potted trees." Ouch — kind of makes you wonder if the funicular's going to make it too.
· Plan for new Transbay Terminal in, under budget [SFGate]
· Transbay Transit Center Site Relaunches With Flythrough, Videos [Curbed SF]
· Transit Center Video Reveals Stuff We Know About, in Sexy Detail! [Curbed SF]
· Transbay Transit Center & Funicular Extravaganza [Curbed SF]
Copyright CURBS