A controlled burn at the Chevron refinery in Richmond continued Tuesday morning, though the main blaze that ripped through the plant - and could be seen for miles - was put out late Monday night.
The fire, started in the No. 4 Crude Unit, of the plant, where diesel crude oil is processed about 6:30 p.m., and was under control within five hours, officials reported. The huge flames erupted after some sort of vapor leak of hydrocarbon in that unit, about 4:15 p.m., according to Chevron spokeswoman Heather Kulp.
Click here to listen to 911 calls.
She held a 5 a.m. news conference on Tuesday to share more details about the raging blaze, seen miles away from the plant.
Workers returned the refinery on Tuesday morning, and Kulp said she hoped things would be back to normal, despite the unit where the fire started being shut down. The refinery processes 240,000 barrels of oil a day.
"We are expecting folks to come into work," Kulp said.
The emergency rooms of two East Bay Hospitals were packed Tuesday, as hundreds of people turned-up complaining of watery eyes, scratchy throats and trouble breathing. Doctors Medical Center in San Pablo and Kaiser's Richmond Medical Center collectively saw more than 650 patients since Monday night's fire.
"Right now, my chest hurts -- it hurts to breathe," said Shanitta Jones of San Pablo who showed-up at the Doctors hospital to get checked out. "I'm breathing in, it hurts. I breathe out, it hurts worse."
Miritha Moon of San Pablo woke-up with a headache and trouble breathing. Physicians at Doctors told her the symptoms would likely subside in 24 hours.
"I'm just hoping and praying everything will be ok for all of us," Moon said. "I know it made a lot of people sick."
Contra Costa Public Health officials said people with pre-existing conditions like asthma and emphysema were likely feeling even worse.
"We would not expect any long-term effects," said Randy Sawyer, Hazmat director for Contra Costa County Public Health. "If they have something that's still persisting today they should go see their personal physicians."
Gas prices in California rose in the hours after the fire. As of midday Tuesday, the price of a gallon of gas gained 23 cents on futures markets, according to Bloomberg. "These increases will be passed along to retail pumps at California and gas stations as far north as Seattle," expert Bob van de Valk told Bloomberg.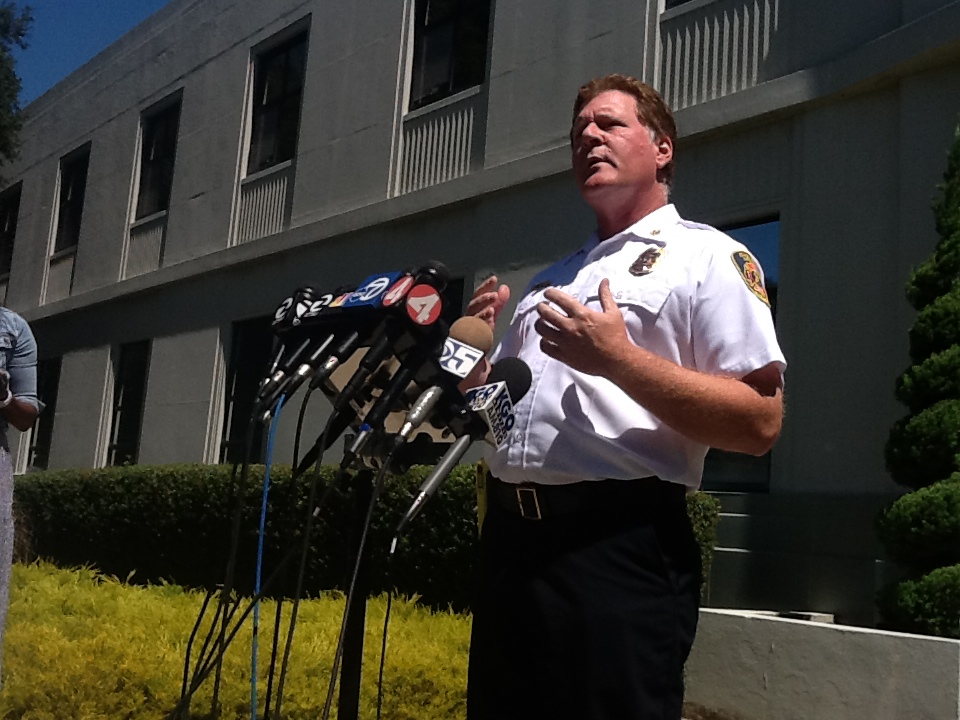 Despite Monday night's huge plumes of smoke and the smell of noxious odors, just three refinery workers reported minor burns and smoke inhalation and were treated at the site.
"We apologize to our neighbors and this community," Kulp said. "And for the concern we have caused them. We are working to determine the cause to prevent future incidents from occurring in the future."
Indeed, people were upset.
The Asian Pacific Environmental Network issued a statement Tuesday, criticizing Chevron's actions as "immoral" and "irresponsible." The group was especially upset that many residents reported not being properly notified, and are now experiencing dizziness, headaches and "other exposures to toxins."
Those grievances are in contrast to how a state agency and Chevron portrayed the response.
The California Department of Occupational Safety and Health Administration was on scene in less than two hours, and stayed until about 3 a.m. Tuesday, according to spokeswoman Erika Monterroza. Cal-OSHA investigators ordered the crude unit area to stay "preserved," so that a full state investigation can continue, Monterroza said.
When the flames spread and the smoke billowed, Chevron issued an order for Richmond, North Richmond and San Pablo to shelter-in-place until about 11:30 p.m. Monday, so that people wouldn't be outside breathing the noxious air.
"Chevron had an excellent emergency response," Monterroza said.
In a statement, Chevron said:
"A claims process has been set up through Crawford and Company, and we intend to compensate our neighbors for medical and property expenses incurred as a result of the incident. We also will see to it that communities be reimbursed for the costs they face for emergency personnel who responded to last night's incident.

If you wish to file a claim, please call 866-260-7881. We will respond to these claims as promptly as possible."
The cause of the blaze remains under investigation and government agencies and regulators are on site, Kulp said.
Kulp confirmed that a similar fire at the refinery that occurred in 2007 was located in a different processing unit than the one that occurred on Monday evening.
Bay City News contributed to this report.
[
View the story "Fire Erupts at Richmond Refinery" on Storify
]
Fire Erupts at Richmond Refinery
A fire was reported around 6:30 p.m. Monday night.at one of the processing units at the Chevron refinery in Richmond.
Storified by NBC Bay Area · Mon, Aug 06 2012 20:50:45
RT @jaffeps: HUGE fire at Chevron's Richmond Refinery. http://pic.twitter.com/vr7KASfGTim Dickinson
Chevron refinery in Richmond is on fire!! http://twitpic.com/agdkbvTaylor
#chevron #richmond refinery fire 7:10 pm from Arlington B El Cerrito #TwitPict http://twitpic.com/agdko6su02420
RT @brondmo: Huge fire in Richmond, CA. Looks like it's at the refinery. http://pic.twitter.com/T6awg2K7linda_her
BART stopping at El Cerrito not going to Richmond MT @mikejcorey: Pretty bad refinery fire in Richmond... http://pic.twitter.com/6WvKuDE1"Coulter Jones
RT @b0bm0rgan: Massive explosions and fire at Chevron refinery in my hometown of Richmond. http://pic.twitter.com/U71j5nqeDavid Amato
Fire at Chevron refinery in Richmond, with smoke reaching Pinole now. http://pic.twitter.com/38ZUEf0kEther
RT @HossfeldVyrds: You can see flames from here and huge plumes of smoke #Chevron Oil Refinery fire in Richmond , view from #napa http://yfrog.com/hs920frjroberrt
Two huge flames. Chevron refinery fire in Richmond, CA. http://pic.twitter.com/M8cBeIzIHillary Hartley
RT @LRiddellSF: Chevron refinery on fire. http://pic.twitter.com/ekq8CH1ZCaleb McNiece
Richmond Refinery fire! http://pic.twitter.com/CPOKxe5FSam
The refinery is on fire in Richmond. Look how close I am. Pray for us http://pic.twitter.com/CTNMSp2gMilton Brown
RT @JJJ: #sfsmoke Chevron refinery fire in Richmond - Smoke 3000 feet high http://pic.twitter.com/biRCFk2INicholas Morris
Major fire at Chevron refinery in Richmond, viewable from my deck. http://pic.twitter.com/ovUBU8aWTed Landau