Over the past two years, Nicole Dow-Macosky has had plenty of practice telling her mother's story.
That doesn't mean it has gotten any easier.
"I'm going to try not to cry," Nicole recently told a group of a dozen women gathered to hear her speak in a Cupertino living room. "It's still hard."
Specifically, it is her mother, Marianne Dow's, death in 2012 at the age of 60 following an 11-month battle with breast cancer that is tough to talk about.
Still, her death was the impetus for what came next in Nicole's life; the reason she is here to talk to potential volunteers for her non-profit, Project Chemo Crochet.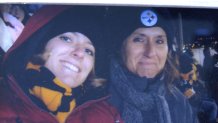 Nicole leads a team of helpers, spread all over the country, who crochet squares of fabric that are then stitched, 24 at a time, into blankets that are then sent to cancer patients.
In less than two years, "Project Chemo Crochet" has sent close to 700 blankets to those battling cancer all over the country.
Nicole does it, she says, to honor her late mother.
WATCH MORE BAY AREA PROUD STORIES
"This is my way of doing that," Nicole says. "I'm comforting people in the world who need comfort during this difficult time."
It was not something Nicole had ever planned on doing. In the months following her mother's death, though, Nicole admits to falling into a depression. "She was my best friend," Nicole says. "She was the one who cared and always listened."
It was Nicole's husband, Ed, who suggested Nicole look into taking a course to get her out of the house and to take her mind off her mother's death. Nicole picked up a brochure for a place that offered adult education.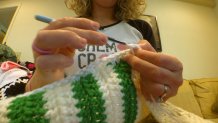 One course, in particular, caught her eye.
"When I saw that crochet class I just knew that was the connection back to my mom," Nicole says.
Marianne had crocheted during her life. Nicole says she still sleeps with a blanket her mother made.
Nicole never took the class, though.
Instead she spent five hours one night watching instructional videos on YouTube to teach herself how to crochet.
By the end of the night she had completed a single square, and come up with a big idea. She would ask others to crochet squares and send them to her, and she would stitch them into blankets.
"I know people want to help," Nicole says. "I'm not asking for money. I'm asking for a piece of you, to make something bigger."
Her husband created a website for her that evening and two weeks later the squares started pouring in.
When she gets pictures back from cancer patients wearing their blankets during their chemotherapy appointments or in their homes, she knows she is doing the right thing.
"To be able to do something, to give them a gift that could comfort them in their time of need, it's incredibly rewarding."
Nicole started Project Chemo Crochet while living in Pennsylvania but has recently transplanted to the Bay Area. She still has a team of stitchers working for her on the East Coast, but she is now recruiting a volunteers to work with her here.