Elizabeth Lee sits at the kitchen table of her San Francisco apartment, stacks of eviction notices and court documents spread out in front of her, recounting each time her landlord tried to evict her. Telling the story is like reliving a nightmare for Lee, one that's lasted for 12 years.
Lee's landlord, Martin Eng, has tried to evict her four separate times since 2014, claiming he intended to move into the unit. Prior to that, there were other eviction attempts and a series of costly legal disputes where Eng accused her of harassment and slander, among other things. In one 2010 lawsuit, Eng even accused Lee, a flight attendant of 37 years, of using the apartment as a den for drugs and prostitution. The claims are so absurd to Lee that she can't help the bewildered laugh that escapes as she denies the allegations.
"It's been going on for so many years. … I'm getting tired," Lee said. "That's the hardest part – it's wearing me down."
So far, Lee has been able to stay in her $1,218 per month, rent-controlled apartment, where she's lived for nearly three decades. She says, however, that victory has come at a high price: She depleted her savings after paying at least $42,000 in legal fees to throw the counterpunches needed to keep her from moving. Despite the egregious nature of Lee's case and a judge's ruling that Eng's eviction attempts were fraudulent, she says the agencies tasked with enforcing the law have not intervened on her behalf.
In San Francisco, landlords can legally evict their tenants if they – or in some cases, their relatives – want to move into the home. A six-month NBC Bay Area investigation, however, exposed a lack of oversight that may be allowing some landlords to abuse the system by wrongfully kicking out rent-controlled tenants. Despite the enforcement provisions included in the city's housing ordinances, the investigation found they are rarely, if ever, used.
When owners evict tenants through an owner move-in eviction, the law states the owner or their family member must move into the unit within three months and live there for at least three years. If they leave prior to the three years, the landlord must offer the unit back to the last tenant at the previous rent price. Yet, nobody actually checks to see if owners are actually moving into those units, forcing tenants to play amateur sleuth if they suspect they were wrongfully evicted.
Lack of Oversight
"It's not working," Lee said. "There's obvious deceit on one end -- that's been shown, proven. So the city has to step up; this is an unprecedented time."
The San Francisco Rent Board can respond to tenant complaints, but it's not designed to be an investigative agency, according to Executive Director Robert Collins.
"That's not one of the tasks we have," Collins said. "I suppose for the individual person who was evicted, there would be other ways of finding out, perhaps. But it would be up to them. It wouldn't be something the Rent Board does."
Each month, however, the Rent Board submits a random sampling of 10 percent of all owner move-in eviction notices to the San Francisco District Attorney's Office for possible investigation. Yet, in roughly the past 10 years, not a single landlord has been prosecuted for a fraudulent owner move-in eviction.
"In some ways, it's like finding a needle in a haystack when it comes to the cases and the random samplings that come our way," said San Francisco Assistant District Attorney Alex Bastian. "There isn't, for example, a Rent Board analysis that says this is 10 percent of the suspicious incidents that we're sending you. It's just a random 10 percent."
Without any reasonable suspicion, Bastian said the agency doesn't have enough resources to investigate the hundreds of owner move-in evictions performed each year in San Francisco. Last year, however, a team of NBC Bay Area journalists did just that.
After spending six months knocking on hundreds of doors, the Investigative Unit was able to survey residents at more than 100 addresses where an owner move-in eviction took place. In 24 cases, nearly one in four, neither the landlord nor a family member was living in the unit. In some instances, there were new tenants living there, paying significantly more rent than the previous tenants.
In spite of the apparent abuse, Bastian said proving fraud can be challenging. Further complicating prosecution efforts he said, is a 2007 California Supreme Court ruling that limited their ability to use the eviction notices themselves in any kind of prosecution.
"You have to be able to prove intent," Bastian said. "Because the notice is not something we are going to be able to use, because we can't use the actual statements by the landlord in the notice, it really puts us in a position where we can't prove fraud or any kind of eviction that's being done unlawfully."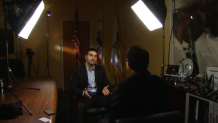 Winning Can Feel Like Losing
Even when the District Attorney's Office has had reasonable suspicion to believe a tenant was fraudulently evicted, the agency still hasn't taken action.
After Eng's second attempt to evict Lee using an owner move-in eviction, she filed a wrongful eviction complaint with the San Francisco Rent Board. The judge ruled in her favor, issuing a decision against Eng.
"Mr. Eng has wrongfully endeavored to recover possession of the tenant's rental unit through harassment," Judge Jeffrey Eckber wrote. "The evidence as a whole showed that Mr. Eng attempted to influence the tenant to vacate her unit through fraud, intimidation and coercion in violation of [the tenant harassment ordinance]. Mr. Eng engaged in a fraudulent scheme wherein he attempted in bad faith to orchestrate the eviction of the tenant."
When reached by phone, Eng denied the allegations against him, saying he had every intention of moving into Lee's unit.
"They're trying to say I had bad intentions," Eng said. "But how do they know if I am going to move in or not?"
Eng, who describes himself as "one of the best, honest landlords in San Francisco," blamed the ruling on the city's bias against landlords.
But the judge apparently disagreed, recommending the commissioners of the Rent Board refer the case to the District Attorney's Office to consider civil or criminal actions against Eng for violating the city's owner move-in eviction ordinance.
The District Attorney's Office reviewed the case, but in the end, pursued no action related to the wrongful eviction.
"They need to step up," Lee said. "What are they there for? What good are laws for if it's not followed through?"
WATCH: Part 1 of Our Investigative Series
Here's How to Potentially Save Thousands on Your Rent
The Investigative Unit mapped out every owner move-in eviction in San Francisco over the past three years. You can use the interactive map below to find evictions in your neighborhood. While many of these evictions are legal, if your address is listed and you are not the landlord or a relative of the property owner, someone may have been wrongfully evicted from that unit, which might entitle you to lock in the previous tenant's cheaper rent.
If your address is listed, let us know about it by emailing us here. You should also submit an official request to the city to have your rent reduced.
Follow Michael Bott on Twitter.
Watch the entire series in this NBC Bay Area investigation:
• Part 1: SF Landlords May Have Wrongfully Evicted Hundreds of Tenants
• Part 2: SF Fails to Prosecute Landlords for Certain Wrongful Evictions
• Part 3: San Francisco Considers New Eviction Laws Following I-Unit Series
• Part 4: NBC Bay Area Investigation Leads to Government Hearing
• Part 5: SF Eviction Crackdown Passes After Investigative Unit Series
• Part 6: SF Mayor To Sign Law After NBC Bay Area Investigation
• Part 7: SF Mayor Inks New Law to Combat Wrongful Evictions
• Part 8: Lake of Oversight Puts Oakland Tenants at Risk of Eviction
• Part 9: Oakland Voters May Get Say on When Landlords Can Evict Renters
• Part 10: Expansion of Eviction Protections Heads to Ballot in Oakland
• Part 11: Oakland Couple Uses Hidden Camera to Fight Eviction
• Part 12: Landlords Frequently Ignore Oakland Eviction Laws
• Part 13: Oakland Housing Director Defends Department
• Part 14: Oakland Housing Chief "Fired," Says Source