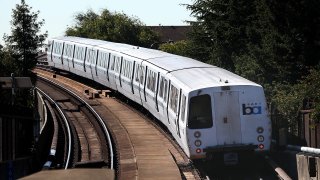 The Bay Fair BART station in San Leandro has reopened after a closure due to police activity, officials said in a tweet.
San Leandro Police said BART trains were stopped late Saturday afternoon out of an abundance of caution after hearing of potential concerning activity in Hayward.
Police said they had heard "chatter" on social media involving a group or groups associated with thefts and fights at local shopping malls, but no related criminal activity had been observed in San Leandro as of early Saturday evening.
Minutes later, AC Transit officials tweeted that bus lines 60 and 97 were being rerouted away from the Southland Mall in Hayward due to activity in the area.