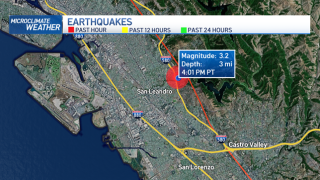 A preliminary 3.2 magnitude earthquake struck near San Leandro, according to the United States Geological Survey.
The temblor was reported at 4:01 p.m. Sunday.
The earthquake was felt in other Bay Area communities, including Oakland and Dublin.
No damage was initially reported. BART said trains in the area are running at reduced speeds while workers inspect tracks. The transit agency says to expect delays of 10-15 minutes systemwide.
The East Bay earthquake followed an earlier and unrelated quake in Southern California.
According to USGS, a 3.5-magnitude earthquake struck near Corona in Southern California.
Bay City News contributed to the report.