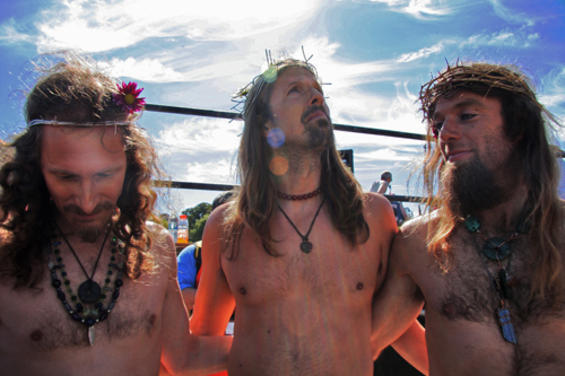 Most of these things have little or nothing to do with the Holiday this weekend, but if you're not into the whole "Easter Bunny" thing, check out these suggestions from the SFist.
-------Bring Your Own Big Wheel:
Rain or shine on Sunday, the giant race of giants on big wheels is on! The race starts off with a kiddie lap! After the race, donate your big wheel to the San Francisco Fire Department -- they'll give it to a kid who needs one.
John Waters' Birthday Weekend: Have a John Waters orgy with three different double features tonight and all weekend. Films include Pink Flamingos, Female Trouble, Desperate Living, Polyester, Hairspray, and Serial Mom.
Earth Day: While every day should be Earth Day, here's a chance to commit to doing your part with various Earth Day activities happening throughout the Bay Area, including a day-long Earth Day Celebration at Civic Center and the 41st Berkeley Earth Day on Saturday. Additionally, National Park Week runs through Sunday.
The Sisters of Perpetual Indulgence's HARE at Dolores Park: It wouldn't be Easter without the Hunky Jesus and Easter Bonnet Contests along with all the other fabulous tongue-in-cheek activities put on by San Francisco's beloved Sisters. There's something for all ages at Dolores Park on Sunday.
20th Annual Union Street Spring Celebration & Easter Parade: For those looking to indulge their little ones in an all-out Easter celebration, this is your bag. Featuring large inflatable bounces, kids' rides and games, a climbing wall, a hands-on children's activities area, costumed characters, a petting zoo, a pony ride and entertainment from Bay Area musicians.