A heavy rain pelted the group of volunteers kneeling in a muddy field in Menlo Park's Ravenswood Preserve, planting small fingerlings of foliage into raised beds — a task that is part of an expanding experiment aimed at preparing the Bay Area shoreline for rising sea levels.
The planting was the latest effort by the environmental group Save the Bay which is attempting to return portions of the bay's shores back to their pre-developed, natural states. In Ravenswood, the group will raise the plants and eventually use them as transition zones as it converts former commercial salt ponds back to tidal marshes.
"That's an important area," said Donna Ball, Save the Bay's director of habitat restoration, "because as sea levels rise it will continue to provide habitat for the animals that are in the marsh now."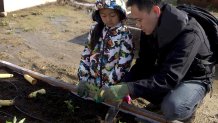 The group has been experimenting with using plants like Western Goldenrod, Marsh Baccharis and Creeping Wild Rye to create living levees which can brace shorelines against rising tides but also filter the waters.
Three-and-a-half years ago the group filled a barren field at the Ora Loma Sanitary District in San Leandro with native grasses and plants. The plant's general manager Jason Warner said the "horizontal levee" has helped successfully treat waste waters flowing beneath the vegetation, and has even been effective at filtering pharmaceuticals from the waste stream.
"We've partnered with UC Berkeley to measure the effectiveness of that,"Warner said, "and we're finding it's providing very good treatment."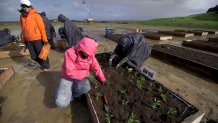 Save the Bay has built raised planting beds to raise the plants on the sites of its plantings. Volunteers from seniors, to small children turn-out for the weekend plantings, helping to transform barren fields into lush fields of green.
At Ravenswood, thousands of plants will eventually become habitat for wildlife including the endangered salt marsh harvest mouse and the ridgeways rail, creating transition zones between the marshes and the uplands. The plants will cover some 15 acres of the land visible from Highway 101.
"What we want to do with this area is create a nice natural marsh habitat with a mix of vegetation and channels," said Dave Halsing of the Salt Pond Restoration Network which is working on restoring the marshlands.
After its initial success at the Ora Loma plant, Save the Bay is expanding the program — aspiring to cover more sites and larger acreage with vegetation. The work is in anticipation of rising sea levels which will make protecting the shores of the bay a bigger challenge.
"We should all care right now," said Ball, "because sea level rise and climate change are facts that are ahead of us in the future."