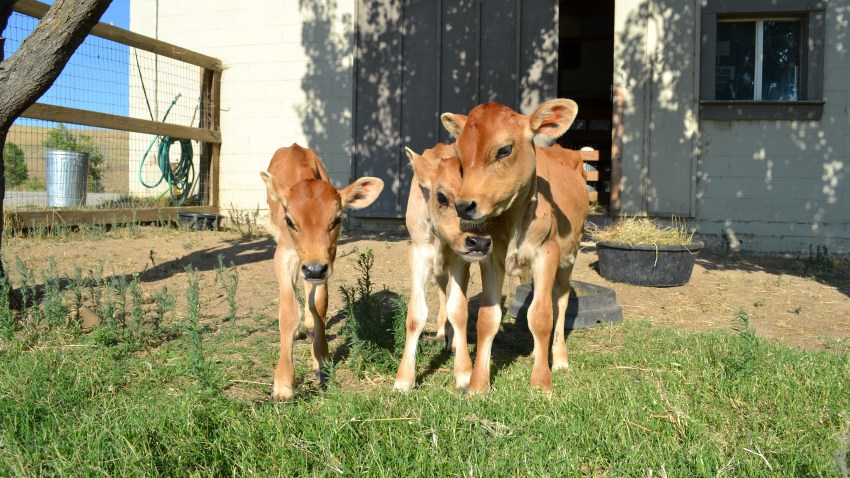 When an NFL player abuses dogs it makes national headlines. And when a major city, such as San Francisco, debates outlawing the sale of pets in the City, the Bill O'Reilly's of the world chuckle at the liberal Bay Area.

But what happens when a farm animal, like a chicken or a cow, is being abused, mistreated or not given the necessities it needs?

In California and the Bay Area there are families and organizations that place mistreated animals in loving homes.

And not all these homes are filled with gigantic green pastures. Sometimes they are a small blue color home in a urban East Bay city with a yard just slightly bigger than 40 feet by 50 feet.

That's where Jason and Elizabeth Jones – who asked that their real names not be used for their own safety -- have been raising chickens, rabbits, turkeys, pigeons, cats and dogs for the past 30 years.

The former Green Peace members took in their first farm animal in need in 1980 and the rest is history.

"You can do to farm animals what you could never do to your dog and cat and they are just as complex as your dog and cat," Elizabeth Jones said about why her husband and her took in their first animals.

"Our family is about 22 large now and its been as high as 35. Its been an absolute pleasure having these animals."

One organization that helps neglected farm animals find loving Bay Area families like the Jones is Farm Sanctuary.

The 25-year-old non-profit organization has shelters in Orland and New York where farm animals can find new homes and start new lives and live out the rest of their days free of worry about being slaughtered or used for breeding purposes.

Just last month Farm Sanctuary was called to Santa Cruz to help care for five malnourished calves whose lives were at risk.

Santa Cruz County Animal Shelter Field Manager Todd Stousy was alerted by neighbors that the calves were not being taken care of.

He visited the animals with a veterinarian and determined that the calves were at risk of suffering great harm. He took ownership of the animals and called Farm Sanctuary to help find them an adoptive home.

And the sanctuary does its part to make sure the animals are placed in loving homes where no more harm will come to them.

"(Potential adopters) have to apply," said Farm Sanctuary National Shelter Director, Susie Coston. "It's almost like adopting a child. It's a little more complicated than adopting a dog or a cat because most places aren't allowed to house them. So we have to make sure they have the zoning."

Adopters are not allowed to use the animal for food or for breeding and while Farm Sanctuary is a vegan organization, Coston says "but we are not trying to shove it down people's throats."

Instead the organization chooses to offer educational information and let people make their own decisions.

Elizabeth Jones' husband, for example, is a vegetarian but not a vegan.

"We have age specific materials," Coston said. "We have lesson plans and all different types of (teaching materials emphasizing compassion). We do tours of our facilities. Thousands of people come during the summer and visit the animals and learn about where their food comes from."

Currently Farm Sanctuary has about 300 adoptive families that it is working with and is always looking for more.
But adopting farm animals is not something that should be taken lightly. Elizabeth Jones says it is a life long commitment that is filled with legal hurdles, such as local ordinances, and making sure your neighbors are happy if you live in a residential neighborhood.
"They have to apply," she said. "It's almost like adopting a child. It's a little more complicated than adopting a dog or a cat because most places aren't allowed to house them. So we have to make sure they have the zoning."

For more information on rescuing farm animals or on Farm Sanctuary, visit the organization's website.